Want to dig deeper into disciplinary interstices and entangled knowledge? Join an international community of artists, designers, cultural workers, and educators by becoming a HOLO Reader. You'll receive the annual print edition and get full access to everything we publish online for a year.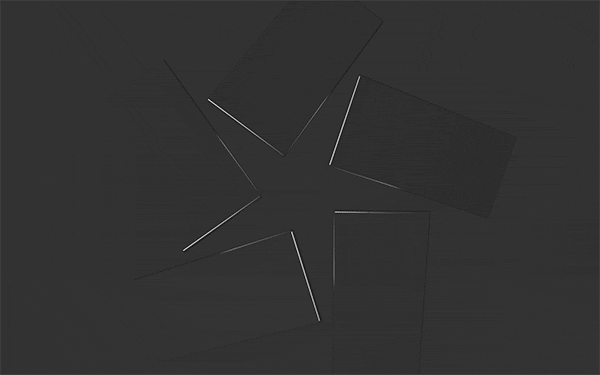 Patrick Tanguay weighs in on the metaverse, moving beyond stock claims on and critiques of the term. The problem, with 'the metaverse,' is it's whatever you want it to be; VR or videogame developers see problems of interaction and immersion, crypto boosters and the web3 crowd speak of economic empowerment and decentralization. Here, Patrick uses the early days of the web to think about open standards and platform capitalism, and his reading is better off for it. Of note: his description of "a full world, at movie quality," which imagines the blockbuster media property as a new kind of persistent experience. He is spot-on, in stating "the merging of the tools and interim steps are actually much more interesting … and offer much more varied potential than those 4-5-6 futures currently vying for the word metaverse."
ENCOUNTER:
"I'm interested in using data as a substrate for more abstract visualizations—systems that don't so much embody the actual data as patterns and trends that might exist hidden within them."
"The harms caused by this widespread, unregulated corporate surveillance pose a direct threat to the public at large, especially for Black and brown people most often criminalized using surveillance."
Underscoring Tetem's [NL] commitment to hybrid experiences, an online component for "Eclipse" launches. Ali Eslami and Mathilde Renault's exhibbition has been open for weeks, but, as of today, remote participants can book access to "discover the extent of their physicality … [and] their interactions with one another." An offshoot of Eslami's ongoing VR experiments, this browser-based iteration allows users to inhabit an avian avatar, and interact with more corporeal forms that are only accessible to visitors of the IRL exhibition.
"My idealistic read of Hic et Nunc peaked during the platform's first hackathon in May, when 150 artists and developers came together to work towards improving the platform. On June 28, the momentum came to a halt."
Confronting the posthuman head-on, "From Creatures to Creators" opens at Kunsthaus Hamburg. Collecting works "going beyond the finite, conceiving the superhuman" artists including Ed Fornieles, Mary Maggic, and Tabita Rezaire contribute provocative, unsettling visions of life not as we know it, through installation, video, and VR. Pakui Hardware's Thrivers (image, 2019), for example, presents glass forms as "porous hosts of life," that fuse elements of flora and fauna lifeforms into chimeric experiments.
"Arguably, one of the most consistent, historically reliable, widely accepted system of ethics in existence belongs to the Catholic Church. You want to base a responsible AI on that?"
Directed by digital artist Ryoichi Kurokawa for Buffalo Daughter, the "ET (Densha)" music video premieres on the band's YouTube channel. Known for his clincial deconstruction of natural forms, here Kurokawa 'explodes' flowers into point clouds, which waft and dissipate in sync with the central bass hook and guitar feedback. Founded in 1993, Buffalo Daughter is a key player in Japan's "cut-and-paste" rock Shibuya-kei movement. "ET (Densha)" is the lead single from their upcoming album We Are The Times.
"At first, he was impressed by the software's ability to mimic the real Jessica Pereira. Within 15 minutes, he found himself confiding in the chatbot. After a few hours, he broke down in tears."
"I think of it as a kind of sanitizing of art, and it will most negatively affect artists who are pushing the envelope."
Kei Kreutler answers the question of the moment: what is a Decentralized Autonomous Organization (DAO)? Linking think tanks, libertarians, and MMORPG Guilds, she maps a prehistory of emergent governance, to contextualize (post-crypto) community tokenization. Noteworthy DAOs, both active and defunct get air time, as do tools and protocols; ultimately Kreutler schematizes DAOs as "tokens, teams, and missions" (image), and "compelling environments players want to inhabit, recognizing narratives, aesthetics, and goals held in common."
"Facebook's problems today are not the product of a company that lost its way. Instead they are part of its very design, built atop Zuckerberg's narrow worldview, and the careless privacy culture he cultivated."