Want to dig deeper into disciplinary interstices and entangled knowledge? Join an international community of artists, designers, cultural workers, and educators by becoming a HOLO Reader. You'll receive the annual print edition and get full access to everything we publish online for a year.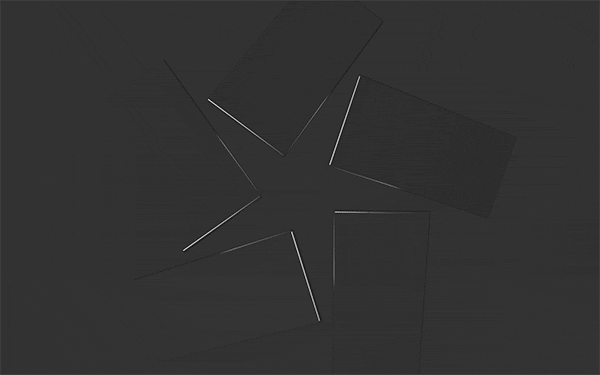 "The court jester often says things people need to hear, from angles no one else would think of. Those in power listen for amusement and crazy insight."
A team of machine learning researchers including Ferenc Huszár, Sofia Ira Ktena, and Conor O'Brien publish findings that Twitter's algorithmically ranked home timeline amps up the visibility of right-wing content when compared to the reverse chronological timeline. Analysis of 2020 tweets from America, Canada, France, Germany, Japan, Spain, and the UK revealed that in six out of seven of those countries elected officials on the political right received more amplification than those on the left, and that right-leaning news organizations were also amplified. "We hope that by sharing this analysis, we can help spark a productive conversation with the broader research community," write Twitter's Rumman Chowdhury and Luca Belli.
"By now, AI is as ambient as the internet itself. In the words of the computer scientist Andrew Ng, artificial intelligence is 'the new electricity.'"
New Orleans news nonprofit The Lens releases "Neighborhoods Watched: The Rise of Urban Mass Surveillance," a five-part series on the city's rapidly growing surveillance apparatus. In obtaining and reviewing thousands of city documents, Michael Isaac Stein, Caroline Sinders, and Winnie Yoe demonstrate how a $40 million public safety plan created a "sprawling, decentralized and constantly changing patchwork of tools" maintained by various departments, agencies, private nonprofits, and law enforcement with little oversight.
DOSSIER:
"As we struggle to disentangle ourselves from predictive regimes and algorithmic nudging, we need to tackle what prediction means, and has meant, for control and computation."
OUT NOW:
Superflux
The Intersection
A sci-fi short (screenplay by Tim Maughan) that takes the climate crisis and disinformation as a jumping off point, extrapolating a "co-operative future" where our relationship with technology—each other—has been rebuilt from the ground up
"The problem with planetary-scale computation is with scale itself. It fails to reckon with what we might call the deep time of facts."
"Boston Dynamics, the best-known manufacturer of quadrupedal robots, has a strict policy agains weaponizing its machines. Other manufacturers, it seems, aren't so picky."
"Offshore finance pierces reality," French artist collective RYBN reflects on their Offshore Tours (2018-20) in a Palm editorial. Over two years, the artists mapped 785,000 leaked addresses tied to offshore activity. "Behind each photographed facade hides a hot spot, a gap in the urban landscape connected to elsewhere, a true crossing point to offshore space," they write. "These addresses are deserted at the very moment of their unveiling, the tracking of offshore finance thus turns into ghost hunting."
DOSSIER:
"Making the 'decision-making process' of a predator drone more 'legible' to the general public seems a fatuous achievement. Even more so if it is an explanation in service of a capitalist state or state capital, and we know how that works."
Extending out of Oli Sorenson's visual cataloguing of the technological artifacts and compromised landscapes of our current era, "Diamond edition: Panorama of the Anthropocene" opens at Montréal's ELEKTRA Gallery. For the show, Sorenson adapts material from the his ongoing painting and inkjet series about the perennial clash between production and nature (image: Oil extraction detail, 2020) rendered in the style of "Minecraft's landscapes and Peter Halley's geometries," and (re)presents it on angled digital displays.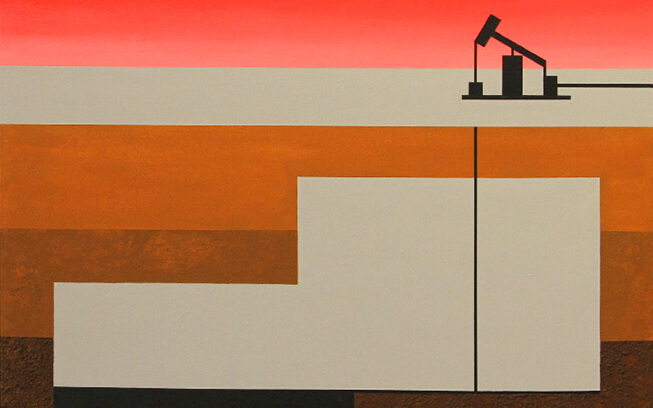 "The only thing we can make now is ourselves; day after day, again and again. To sculpt one's own individuality has ballooned into an endless task. To post every day, to express yourself creatively, to have opinions on the churning discourse."
"The algorithm estimates Hito's gender, it says she is 57% female and 42% male. Which begs the question: what would 100% female be? Whether that's Barbie, Grace Jones, or Angela Merkel—who knows?"