AI art and biohacks that ponder post-humanism, CGI fever dreams that (further) distort reality, software that speaks truth to power: HOLO Readers enjoy full access to our weird and wonderful discoveries at the nexus of art, science, technology, and culture. Join us and support indie publishing in the process.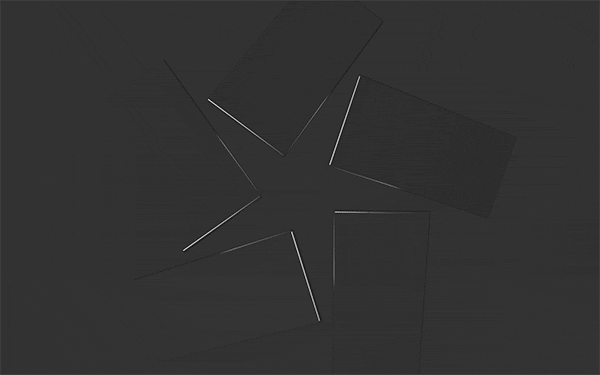 "I've resigned myself to being a non-stop curmudgeon about this, but an aspect of Dall-E's closed invite beta I haven't seen touched on is how it's enlisted artists to act as unpaid influencers for a company whose backers include Peter Thiel and Elon Musk"
"The Byzantine Generals Problem," a group show seeking consensus on crypto, opens at distant.gallery. Curated by Domenico Quaranta, the online exhibition features Sterling Crispin, Sarah Friend, Ben Grosser, Anna Ridler, and 10 others. Interrogative in tone, included works span Rhea Myers' blockchain visualizations (2014-5), Kyle McDonald's Ethereum carbon footprint calculations (2021), through a Web3 Dot Com Séance (2022, image) by Simon Denny and collaborators.
"The AI discovered a mechanism that redressed initial wealth imbalance, sanctioned free riders, and successfully won the majority vote."
Metaverse Petshop, artist duo Exonemo's CGI puppy mill, opens at NowHere in NYC. Building on a May beta test, this version adds NFT functionality and complicates transactions. Purchasers of virtual pups are faced with an ethical dilemma: keep their 'metaverse pet' in its entirety or strip off its 3D texture map and sell it on OpenSea. "It is like catching an actual animal and processing its skin to make it live much longer than the original," the duo (ominously) note.
"Compared with energy use, data center water consumption is much more behind-the-scenes, is much more controversial, and in some cases is considered a trade secret."
What Just Happened:
Mindy Seu Forges Deep Links Between Cyberfeminism, Net Art, and Web3
The American designer and researcher in conversation about "WETWARE," her Cyberfeminism all star NFT collection that's currently on Feral File
"We really have a very fixed idea of what kind of art we're interested in. It requires a new model of running a gallery—especially one that shows challenging and forward thinking art."
Berlin's Panke Gallery and Zentrum für Netzkunst celebrate the 10th anniversary of iPhone live, the one-year art performance by Johannes P Osterhoff. From June 29, 2012, the German media artist broadcast screenshots from his jailbroken iPhone to a public website whenever he pressed the home button, aggregating 13,567 snapshots (about 40 per day) of his digital life. In commemoration, Osterhoff and invited experts reflect on the iconic project at /rosa, Berlin.
"There's a prevailing narrative in society that it's all or nothing—you're a winner or a loser. It's Trumpian and driven by the greed of glassy-eyed decentralized gamblers who are afraid if a project doesn't sell out, their pathetic investment is in peril."
OUT NOW:
Michael Century
Northern Sparks
A history of how hosting
Expo 67
and innovative cultural policies kicked off a golden age in Canadian art and technology
"He was homeless for quite a long time during his life, and he really struggled with alcoholism. He had no interest in art at all, and then one day he went into an exhibition to get out of the rain."
An intimate view into his ongoing efforts to automate his practice, Jonas Lund's "Walk with Me" opens on the distant.gallery social platform. The online exhibition collages early and recent experiments of "wrapping his distributed identity, personality traits, and musical interludes" layered with instructions to make his artworks into a single glorious browser canvas, that Lund compares to "being inside the artist's brain itself."
"Digital sculptures live in the now, in a future that never ages. The physical object is the archive. That object was digital, but now it is real, pinned to a certain moment, and it can travel through different times and contexts as long as it exists."