AI art and biohacks that ponder post-humanism, CGI fever dreams that (further) distort reality, software that speaks truth to power: HOLO Readers enjoy full access to our weird and wonderful discoveries at the nexus of art, science, technology, and culture. Join us and support indie publishing in the process.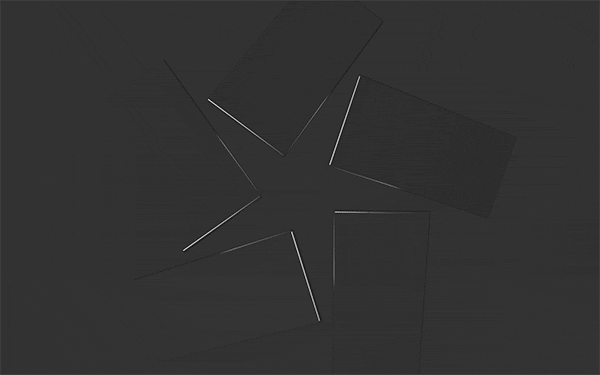 "Chronos/Synthesis," a solo show by Canadian artist Oliver Pauk, opens at Toronto's J Spot Gallery. For the window gallery show, Pauk presents an array of 3D printed, CNC milled, and hand carved sculptures alongside video and AR works. The selection underscores two driving interests: rendering pure digital form, and his efforts "to replicate the patterns and aesthetics of automated, computerized processes" in more traditional mediums (image: Object #90, 2017).
"I'm worried. I could see people signing away contracts right now that could have really detrimental impacts on their future ability to make work as themselves."
After exploring "Water" in a major 2019-20 exhibition, the Queensland Gallery of Modern Art (GOMA) opens "Air," a showcase with more than 30 artists including Dora Budor, Nancy Holt, and Katie Paterson that explore the cultural, ecological, and political dimensions of Earth's atmosphere. "Air" is anchored by Tomás Saraceno's Drift: A cosmic web of thermodynamic rhythms (2022, image), a new commission that suspends 13 partially mirrored spheres in GOMA's central atrium space.
"I needed to train myself to cry in order to continue feeding those tiny marine ecosystems."
OUT NOW:
Jonas Lund
By Opening This Book
An edition of 100 sealed books, each key to a unique web experience. By opening the book, readers agree to contractual terms that, much like the often ignored internet fineprint, remain the
Swedish artist
's secret.
Emerging trajectories in art, science, and technology (since 2012)
As an editorial and curatorial platform, HOLO explores disciplinary interstices and entangled knowledge as epicentres of critical creative practice, radical imagination, research, and activism
"I feel the language and concepts I'm working with don't comfortably fit within the normal discourse about art and aesthetics. CERN's physicists and engineers understood the tools I was using and I was able to talk about my goals. I just couldn't have that kind of dialogue in an art context."—sound artist Bill Fontana on his CERN residency (HOLO 2, p.206)
There is a space between a computer's command line interface and the contemporary art museum, the legalese of Silicon Valley's terms and conditions and the social contract, the whoosh of a particle accelerator and the romanticized "a ha" of artistic inspiration. For much of the twentieth century these gaps were chasms, separating science and engineering from the humanities and siloing them off; today, these gaps are narrowing and disciplinary interstices are the spaces to watch. Increasingly aware of how much technology governs not only entrenched fields of study but every aspect of modern life, we've come to realise that things are deeply intertwined.
HOLO emerged in 2012 to explore these entanglements—first with a periodical, now across an expanded platform. Set up in the grey zones between art, science, and technology, it frames scientific research and emerging technologies as being more than sites of invention and innovation—as epicentres of critical creative practice, radical imagination, and activism. The artists and designers working with related materials—algorithms and microcontrollers, meteoroids and fungi, data and archives—aren't just updating notions of craft for the twenty-first century, they are researchers and cultural critics.
As an editorial and curatorial platform, HOLO occupies the same eccentric vantage points as these hybrid creative practices and puts them into perspective. Working across multiple avenues—print and online, events and production—HOLO collaborates with contributors and cultural partners to facilitate fruitful dialogue between domains and bring new voices into the conversation.


Selected collaborators:
© 2022 HOLO V2.5.1 (beta)
We produce:
Artist talks
Panel discussions
Performances
Installations
Workshops
Editorial
Publications
Over the last decade HOLO has curated more than 500 cultural initiatives worldwide
Selected partners: