Want to dig deeper into disciplinary interstices and entangled knowledge? Join an international community of artists, designers, cultural workers, and educators by becoming a HOLO Reader. You'll receive the annual print edition and get full access to everything we publish online for a year.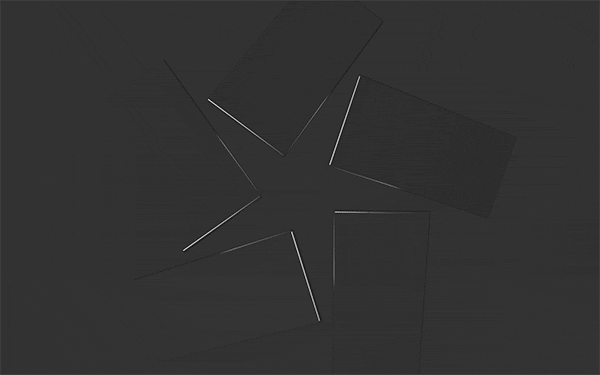 A physical articulation of invisible data flows, Mario Santamaría's Unfixed Infrastructures and Rabbit Holes (2020) opens at Aksioma, Ljubljana. The Spanish media artist programmed a "rabbit hole" network to cycle signals through different geolocations, seeking the maximum possible route allowed by network protocols. The delay—a measure of the materiality of digital time—is visualised by two screens video-streaming a Foucault pendulum, one connected to the gallery WiFi, the other to the "rabbit hole" network.
"We already live in a society which is very heavily gendered and very visually gendered. What these technologies are doing is making those decisions a lot more efficient, a lot more automatic, and a lot more difficult to challenge."
"Unmanned aircraft were seen as popular because U.S. soldiers didn't have to go to the battlefield. But what about the casualties in the countries that were attacked by our drones?" American artist Sam Durant asks in a wide-ranging interview about his new public artwork Untitled (drone). "The idea was to bring this conversation home to America." Originally conceived in 2016, Durant's life-sized fiberglass sculpture of a Predator drone will be installed atop a 25-foot-tall pole on New York's High Line in May.
"That's never felt good to me, having to live in San Francisco and see the physical manifestation of capitalism's inequality engine in geographical form. And today, with the pandemic and the economic crisis, the number of tents has exploded around here."
OUT NOW:
Back Office 4
Go With the Flow
Next Encounter
Coming Soon
Encounters is a monthly interview series that profiles interdisciplinary artists, designers, curators, and researchers in-depth, up close, and personal. For full access, become a HOLO Reader.
Emerging trajectories in art, science, and technology (since 2012)
As an editorial and curatorial platform, HOLO explores disciplinary interstices and entangled knowledge as epicentres of critical creative practice, radical imagination, research, and activism
"I feel the language and concepts I'm working with don't comfortably fit within the normal discourse about art and aesthetics. CERN's physicists and engineers understood the tools I was using and I was able to talk about my goals. I just couldn't have that kind of dialogue in an art context."—sound artist Bill Fontana on his CERN residency (HOLO 2, p.206)
There is a space between a computer's command line interface and the contemporary art museum, the legalese of Silicon Valley's terms and conditions and the social contract, the whoosh of a particle accelerator and the romanticized "a ha" of artistic inspiration. For much of the twentieth century these gaps were chasms, separating science and engineering from the humanities and siloing them off; today, these gaps are narrowing and disciplinary interstices are the spaces to watch. Increasingly aware of how much technology governs not only entrenched fields of study but every aspect of modern life, we've come to realise that things are deeply intertwined.
HOLO emerged in 2012 to explore these entanglements—first with a periodical, now across an expanded platform. Set up in the grey zones between art, science, and technology, it frames scientific research and emerging technologies as being more than sites of invention and innovation—as epicentres of critical creative practice, radical imagination, and activism. The artists and designers working with related materials—algorithms and microcontrollers, meteoroids and fungi, data and archives—aren't just updating notions of craft for the twenty-first century, they are researchers and cultural critics.
As an editorial and curatorial platform, HOLO occupies the same eccentric vantage points as these hybrid creative practices and puts them into perspective. Working across multiple avenues—print and online, events and production—HOLO collaborates with contributors and cultural partners to facilitate fruitful dialogue between domains and bring new voices into the conversation.


Selected collaborators:
© 2021 HOLO V2.5.1 (beta)
We produce:
Artist talks
Panel discussions
Performances
Installations
Workshops
Editorial
Publications
Over the last decade HOLO has curated more than 500 cultural initiatives worldwide
Selected partners: