Conversation
The Poetics of Interactive Clothing
Speakers:
Ying Gao
Joanna Berzowska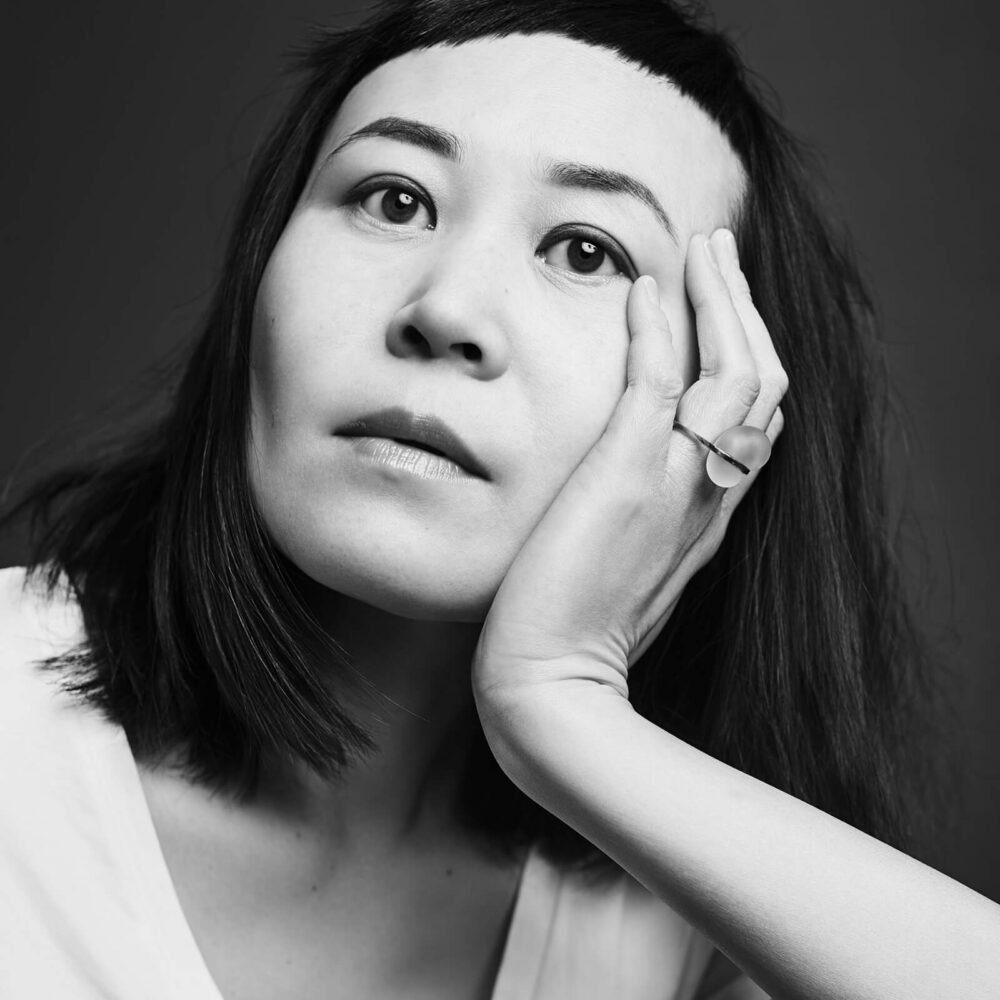 Profile:
Ying Gao
A Montréal-based fashion designer and professor at the Université of Quebec in Montréal,
Ying Gao
questions our assumptions about clothing by combining fashion design, product design, and media design. She explores the construction of the garment, taking her inspiration from the transformations of the social and urban environment. Her work has been featured globally, at venues including the Textile Museum of Canada, the San Francisco Museum of Craft and Design, and HeK Basel.

Takeaway:
For better or worse, fashion is is cyclical and animated by rhythms of obsolescence that drive consumption. What if fashion was a more sensitive register of what was happening in the world? We have haute couture, why not expand our conception of fashion to include clothes that are critical or speculative?

Takeaway:
Like with art, fashion is about sparking the imagination of the viewer. Designers in interactive fashion and wearable technology are acutely aware of the centrality of representation. Unlike disposable 'fast' fashion, more conceptual designs wiill never be worn, so what or how they work (or how they were made) has to be communicated in other ways. To work in this field is as much about being a creative director or filmmaker as a designer of clothing.
Soundbite:
"For me, the primary condition for practicing design is the capacity to assimilate the idea that an object comes before its image. That is to say, you don't create an object with the goal of creating an image. You must think of the object first, and the image second. These days, especially with Instagram, we're tempted to create an image quickly, before the object itself is fully conceived."
Ying Gao
, on focusing on concept before worrying about aesthetic
Soundbite:
"For once, the body is outside of the clothes. The body isn't inside the clothes. The clothes do not cover the body. They're separate. The object of consumption has left that which consumes it. You don't consume my garments, you observe them."
Ying Gao
, on how her fashion resides in the imagination of the viewer
Project:
Whether intentional or not
Purple Skin
(2020), captures the PVC zeitgeist of post-pandemic life. Described as "artificial skin," Gao's silicon, glass, and polyethylene design creates a protective layer between wearer and world. "Ambivalently evoking skin folds and wounds," the thick pseudo-fabrics and helmet play with material expectations while projecting an aesthetic that simultaneously evokes the smartness of a
Vogue
spread and the cringe of
David Cronenberg
-style body horror.
Definition:
Soft sculpture: Ying Gao's shorthand for fashion-as-object, clothing that is ambiguous enough to escape being pigeonholed strictly as either 'art' or 'design.'
Profile:
Joanna Berzowska
Joanna Berzowska
is the founder and research director of
XS Labs
, a design research studio focussing on innovation in the fields of electronic textiles and reactive garments. Her research involves the development of enabling methods, materials, and technologies—through soft electronic circuits and composite fibers—as well as exploring the expressive potential of soft reactive structures. Her work has been shown in the Cooper-Hewitt Design Museum in NYC, the V&A in London, the Millenium Museum in Beijing, and other venues.
Soundbite:
"Viewers can't touch, look at, or feel the sensations of your designs—they can't inhabit them. How do you think about engaging an audience?"
Joanna Berzowska
, on the fact that most folks that appreciate fashion will never wear it
Soundbite:
"The pertinent question that follows is that although this object isn't meant or destined to be worn, it's represented by videos and images. We don't have access to the object itself. We can't see it, we can't observe how it's sewn, how it was conceived, how it moves. Most people see these objects through a screen or in a newspaper. That's why I make such an effort to produce images that are faithful to my garments."
Ying Gao
, on the
work
that goes into communicating fashion that is interactive or makes use of novel production techniques
Reference:
Gao cites Paul Virilio's
The Aesthetics of Disappearance
as a key influence while paging through a slideshow of her works. Written in 1980, the book re-centres several of the French theorist's central interests—speed, perception, violence—with the rapid shifts in worldview during globalization. He writes "with speed, the world keeps on coming at us, to the detriment of the object, which is itself now assimilated to the sending of information. It is this intervention that destroys the world as we know it…" While Gao's designs do not specifically address speed they all hinge on the notion of altered or radically transformed objects.
Soundbite:
"We should redefine the word 'useful.' What is useful? A philosophical thought is more useful to a designer than a pair of jeans."
Ying Gao
, underscoring that she reaches for her Virilio before her Levi's
Project:
A pair of interactive dresses, ostensibly about absence (or at least ephemerality),
(no)where (now)here
(2013) presents formalwear that is constantly in flux. Made of photoluminescent thread that responds to eye tracking software, the dresses' shimmer is tied to the gaze of its viewer. Stranger still, there's no fixed form and the state of the dresses when they are
not
being viewed, becomes a vexing question.
Soundbite:
Is design ephemeral? Everything is ephemeral, but not everything is disposable.
Ying Gao
, making space for fashion that isn't 'fast'