The (New) Age of Discovery
Text:
Daniel West
Photography:
Rick Pushinsky
Published:
12/04/2014
Production notes:
coming soon
Brighton (UK)
Explosive volcanic eruptions, crackling geomagnetic storms, accelerated crystalline growth—Semiconductor's work harnesses the wonders of the natural world. Having been embedded at institutions like the NASA-affiliated Space Sciences Laboratory, and regularly collaborating with leading scientists, the inquisitive duo of Ruth Jarman and Joe Gerhardt demonstrate the role artists can play in exploring the unknown.
Science and art are incestuous. Though the two are distinct in their methods and aims, there has always been a propagative exchange between them. During the Renaissance, educated Italians were schooled in both as part of a unified quest for knowledge and enlightenment termed Natural Philosophy. From da Vinci's anatomical drawings to Turner's nineteenth century paintings visualizing Faraday's electromagnetic theories, artists have regularly been inspired by and contributed to their sister discipline. Scientists have often returned the gaze, with sixteenth century cartographers and nascent biologists borrowing Albrecht Dürer's illustrative techniques, James Clerk Maxwell sculpting the first three-dimensional scientific visualisation from clay in 1874, and Nobel laureate Niels Bohr using cubism to understand quantum physics.
Brighton-based duo Semiconductor is emblematic of a more recent convergence of science and art. As computer prices dropped in the 1980s and '90s, the tools and techniques of experimentation were extended from labs to studios. Studying at the University of Brighton, Ruth Jarman and Joe Gerhardt were swept up by the creative possibilities encoded within information technology. From music videos for DAT Politics to live performances using their own audiovisual software, Semiconductor's early work was a fusion of computer graphics and glitchy electronic music. The results were often incoherent but intriguing, as if Bridget Riley had been imprisoned in a web café with Squarepusher.
Like their contemporaries, Jarman and Gerhardt discovered that the computer's very structure and processes—its 'technicity'—tilted their output towards abstract digital expressionism. Despite new media's experimental context, the output was often similar in tone and form. Arts festivals such as London's onedotzero, Barcelona's Sónar, and Berlin's transmediale helped filter out the more meretricious work, but I and many other cultural critics grew bemused with the pervasive staleness during the new media art boom. Its aesthetic and formative freshness quickly tired, revealing a lack of narrative and character—in both senses of the word. Just as free jazz turned from innovative to irrelevant, a creative cul-de-sac began to suffocate digital animation.
New media artists were in a paradoxical bind, with computers having both liberated and constrained their powers of expression. Semiconductor was acutely aware of this problem. "Deconstructing the computer and its language was part of the whole scene at the time. We called ourselves Semiconductor because we were only in part control of what we were making—the computer was the third member of our group," admits Gerhardt. "It was really hard to escape the identity that it would impose on your work," adds Jarman. The pair's words are revealing in both content and tone. Though their admissions are unified, the delivery couldn't be more different. Gerhardt has an abrasive nervousness accentuated by his angular frame, whereas Jarman is easygoing and extroverted. These oppositional personalities give a charged air to the ground-floor room of their Brighton home studio. Between his left-brain analytical coolness and her right-brain social warmth, Semiconductor's computer seems less an antagonist than a neutral mediator.
As Jarman and Gerhardt's frustrations with their silent partner grew, the pair cast out for inspiration from the tool's source. Computing had broadened their vocabulary but it had also kindled an interest in science itself. The duo's early work had explored earthquakes, electromagnetism, and viruses, but 2005 saw their first direct use of scientific data, with recordings of seismic disturbances from the British Geological Survey turned into a soundtrack and used to animate Northumbrian vistas. All the Time in the World was an attempt to represent the deep time of geology. Semiconductor's interest in transcending the limits of experience was expanded the following year with Brilliant Noise. This piece also translated scientific data into sound, but its raw material was thousands of stills of the Sun taken by satellites and observatories. The stills were edited and composited into a short film, the brightness of which triggered changes in the soundtrack.
Jarman and Gerhardt's contribution to the data was both understated and radical. "All we had to do was extract the images, but nobody had ever brought all of that visual data together. Quite often scientists would only study a couple of seconds," explains Jarman. Moreover, the choice of plain black-and-white lent the film an unfamiliar power. Whereas most artistic and mass media solar imagery has intense reds, oranges, and yellows, here we see an otherworldly, monochrome sun. As eerie synths wash over the atypical imagery, we're reminded of our own solar system's inaccessibility and the alien nature of technology itself. Where Turner had used painting to mediate his fascination with the Sun in the nineteenth century, here our subjectivity is extended by apparatuses. Semiconductor highlights a contemporary sublime visible only through machines themselves—a heterogeneous assemblage at once human, machinic, and natural.
To get full access to this feature, please or become a
.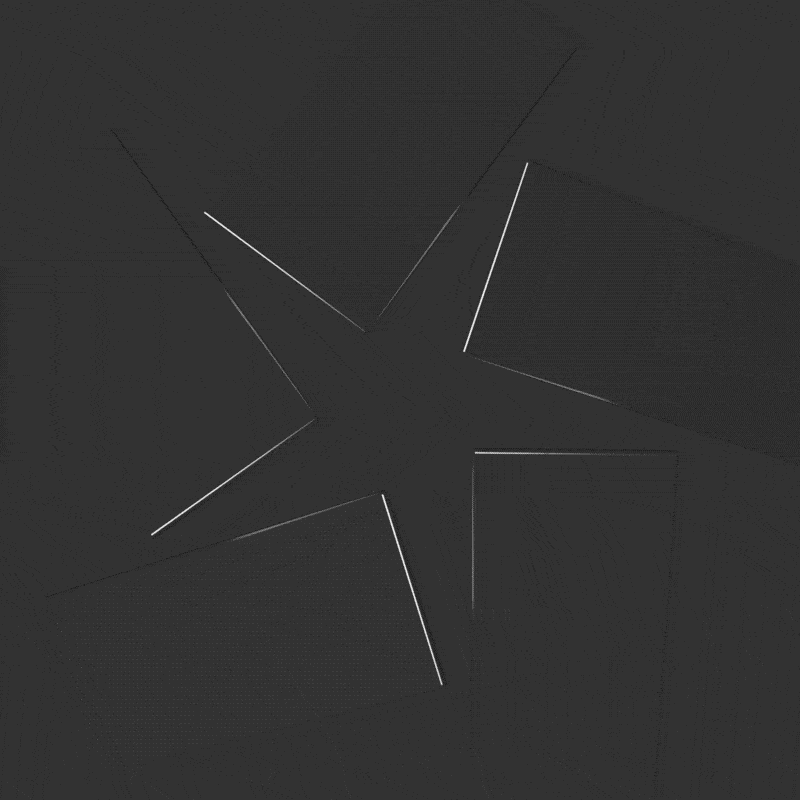 Daily discoveries at the nexus of art, science, technology, and culture: Get full access by becoming a HOLO Reader!
Perspective

: research, long-form analysis, and critical commentary

Encounters

: in-depth artist profiles and studio visits of pioneers and key innovators

Stream

: a timeline and news archive with 1,200+ entries and counting

Edition

: HOLO's annual collector's edition that captures the calendar year in print
Credits
Metadata

Text:
Daniel West
Photography:
Rick Pushinsky
Published:
12/04/2014
Production notes:
coming soon
Brighton (UK)
Notes
This feature was originally published in the inaugural issue of HOLO (2014, p.42-52). For details, see the HOLO Shop.
Contributors

Daniel West: A PhD student within Columbia University's Department of Anthropology, Daniel's research examines the political ecology of Hawaiʻi, as informed by local responses to environmental stewardship, sovereignty, and Polynesian culture. In a decade as a journalist, he filed reports on "the contours of the Anthropocene across science, technology, and economics" from London, Berlin, and Beijing. For HOLO, Daniel has profiled Semiconductor, David OReilly, and Katie Paterson.

Rick Pushinsky: Trained in architecture and fine art, Rick is a photographer based in East London. His book Songs of Innocence and Experience: A Study Guide was published in 2016 by Sternthal Books and in 2017 he released Just Not Kosher, a set of family recipe cards made in collaboration with his father. His editorial clients include Financial Times, Noble Rot, and Vogue, and Rick has photographed Semiconductor, Tale of Tales, and Vera Molnar for HOLO.
© 2014-21 HOLO