Text:
Alexander Scholz
Photography:
Rick Pushinsky
Published:
16/11/2016
Production notes:
coming soon
Paris (FR)
When Vera Molnar gained access to a computer in 1968, it sent her algorithms into overdrive. For years, the Parisian painter had realized parametric geometries by hand—now they could be iterated to infinity. Five decades later, at 92, the 'grande dame of digital art' is still cultivating form through permutation. From perfect square to knotty zigzag: each moment of sublime (dis)order encodes a lifetime of mind-machine interplay.
Two clustered crosshatches of diagonal and straight lines, barely 8 by 8 centimetres across. The ink: faint if not fading; the paper: stained, yellow, papyrus-like. What looks like a pair of artifacts are, in fact, computer drawings. The year, pencilled underneath in sweeping handwriting, is 1968—not too distant history in human terms, but an eternity in computing. Moore's Law, the estimation that the number of components in integrated circuits—and thereby processing power—would double approximately every two years, had been articulated just three years earlier. But even its author, semiconductor authority and soon-to-be Intel co-founder Gordon Moore, could not have foreseen its dramatic effects. "Rather than becoming something that chronicled the progress of the industry, it became something that drove it," Moore stated in an interview fifty years later, astonished at his theorem's continued accuracy and tight synchronization with the tempo of change. If the smartphone in my pocket feels outdated, or my first computer (a Commodore 64) ancient, then these crosshatches are downright prehistoric.
Scribbled next to the time stamp is the letter 'm' for Molnar—Vera Molnar—the subject of the extensive retrospective I'm visiting. With more than eighty pieces spanning seven decades, "(Un)Ordnung. (Dés)Ordre"—German and French for (dis)order—at Museum Haus Konstruktiv in Zürich is, perhaps, the biggest celebration of the French artist, heralded as one of the first to use a computer in her work. At first glance, Molnar's oevre appears to oscillate between constructivist orthodoxy and the machinations of concrete art. On closer inspection, it's minimalism fleeting definition. There are skewed squares, restless rectangles, distorted trapezoids, and many, many, lines. Straight or zigzagged, singular or densely meshed, computer drawn or otherwise—like Ariadne's thread, they weave through Molnar's maze of generative geometry. An end is not in sight: at ninety-two, the "grande dame of digital art" (Le Monde) is still tirelessly producing work.
The letter 'm' again. This time next to a doorbell in a sleepy side street of the 14th arrondissement in Paris Montparnasse. It is a warm autumn day, a few months prior to "(Un)Ordnung. (Dés)Ordre," and only five, six strides across an overgrown backyard seperate me from the concrete edifice that is Molnar's (self-designed) home. "Madame Molnar! Madame Molnar!" my guide shouts as we step closer. The voice belongs to Wolf Lieser, owner of Berlin's DAM Gallery and Molnar's representative and friend of many years. The digital art aficionado helped arrange this visit and is intimately familiar with the entry ritual. "At this time of day, Vera will be working in her studio on the third floor," Lieser explains, "she'll lower her keys from the balcony." Indeed, after a bit more shouting, a face peeks over the balustrade—her wide smile framed by façade and foliage. The key, lowered on a retractable dog leash, opens the door to a staircase that winds through two floors of domestic space, and terminates with Molnar receiving us in a studio loft filled with light and history.
The grande dame of digital art is petite and dresses casually: trainers, brown velvet jacket, a sunset yellow shirt, beaded wooden necklace, silver hair in a bun. "Willkommen!" she says with a warm, sonorous voice in, to my surprise, perfect German with a rolling Eastern European ring. Molnar, who is originally from Hungary, explains her familiarity with my mother tongue before I can even ask: "My nanny was German. A wonderful woman!" Another wide smile and I forget that my spry host had her first solo show the year I was born. We stick with German (I notice a worn French-German dictionary placed within reach) and settle on comfy leather chairs by the window.
I begin the conversation casually: "What are you currently working on, Madame Molnar?" She springs out of her seat again, excited, and fishes a roughly two-metre-wide canvas from a stack stored behind an easel. The abstract serigraphed landscape in her hands—two layers of horizontal and vertical black lines meshed on a grey background—was completed recently in preparation of a new show, she reveals. But, like many of her works, it echoes Molnar's past. I look around: propped up on a bookshelf are two Interruptions (2003), acrylic renditions of an eponymous ink drawing from 1967; the splintered wave of Trapèzes penchés à droite (2012) that lines the wall to my left is based on a series of late 1980s tape collages; a cardboard box tucked away in a corner contains plots of Hommage à Dürer, a fifty-plus-year exploration that began in 1948. This one—Molnar taps on the jagged horizon in her hands—goes back all the way, she insists, and reveals one of her first abstract works in a MoMA exhibition catalogue from 2010. Indeed, Collines géométriques, one of two works included in "On Line: Drawing through the Twentieth Century," prefigures Molnar's latest panorama with two meandering lines, drawn with crayons across eight scrapbook sheets in 1946. "Looking at these drawings now I get the impression that everything I've done since is derived from these sketches," she says. "Without knowing it, I keep returning to the hilly monotony of the Transdanubia of my childhood."
To get full access to this feature, please or become a
.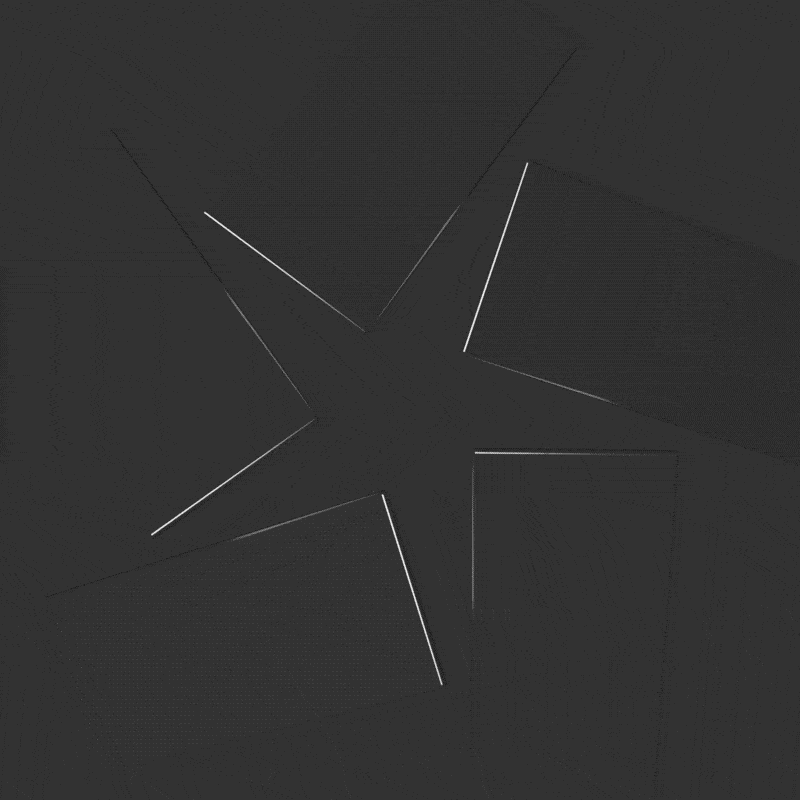 Daily discoveries at the nexus of art, science, technology, and culture: Get full access by becoming a HOLO Reader!
Perspective

: research, long-form analysis, and critical commentary

Encounters

: in-depth artist profiles and studio visits of pioneers and key innovators

Stream

: a timeline and news archive with 1,200+ entries and counting

Edition

: HOLO's annual collector's edition that captures the calendar year in print
Credits
Metadata

Text:
Alexander Scholz
Photography:
Rick Pushinsky
Published:
16/11/2016
Production notes:
coming soon
Paris (FR)
Notes
This feature was originally published in the second issue of HOLO (2016, p.44-59). For details, see the HOLO Shop.
Contributors

Alexander Scholz is a Berlin-based writer, artistic director, cultural worker, and publicist. As the founder and creative director of HOLO, he helps produce and disseminate knowledge on disciplinary interstices, artistic research, and cultural transformations in the digital age. Over the past few years, he curated exhibitions, conferences, and educational programmes for organizations and festivals including A.C.C. (Gwangju, KR), Mapping (Geneva, CH), MUTEK (Montréal, CA), and NODE Forum for Digital Arts (Frankfurt, DE).

Rick Pushinsky: Trained in architecture and fine art, Rick is a photographer based in East London. His book Songs of Innocence and Experience: A Study Guide was published in 2016 by Sternthal Books and in 2017 he released Just Not Kosher, a set of family recipe cards made in collaboration with his father. His editorial clients include Financial Times, Noble Rot, and Vogue, and Rick has photographed Semiconductor, Tale of Tales, and Vera Molnar for HOLO.
© 2014-21 HOLO