In a wry activation of collection holdings from a bygone era, praise is due to the curators of "Conflict in My Outlook," a freshly-launched online exhibition focused on the "erosion of boundaries between online and offline, public and private." Nestled amongst contemporary artists Zach Blas, Natalie Bookchin, and Elisa Giardina Papa, the University of Queensland Art Museum show includes a 1930 painting by Kenneth Macqueen that delineates the majesty of 'the cloud.'
Welcome to HOLO 2.5, the new digital arm of HOLO magazine! We don't think it's odd to be celebrating an in-between issue as HOLO is all about interstices: first between disciplines, now between mediums. Please take a look around; for more details on our new online home read the welcome note, linked below.
OUT NOW:
The New Normal
Emerging from a 3-year
research program
initiated by Moscow's Strelka Institute, editors Benjamin H. Bratton, Nicolay Boyadjiev, Nick Axel, and a host of collaborators consider the impact of planetary-scale computation on urban futures.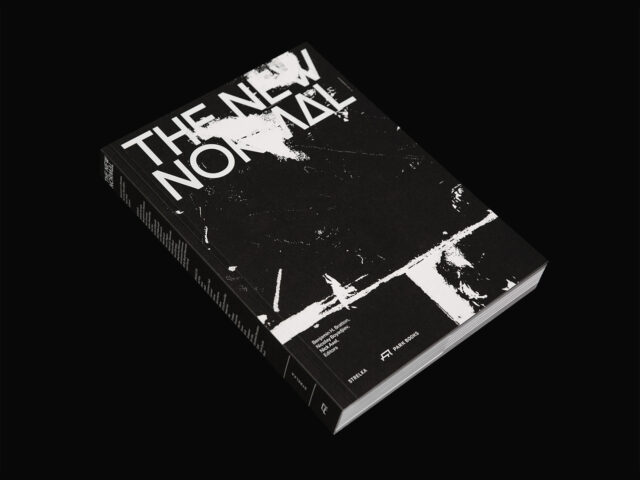 Algorithmic production has the potential to "free overworked and underpaid artists to pursue the aspects of their art that are most enjoyable, creative, or personally fulfilling." Beyond the expected skepticism, Matthew Braga considers the nuances of automation, and draws on recent project by Robin Sloan and Holly Herndon to illustrate how it might aid and augment beleaguered and spread-too-thin creatives.
"Like all technologies, light reflects larger expressions of power, carving up an architecture of visibility that shapes how lives are led at night, providing shelter for some and harmful exposure for others."
"…as familiarity with coding increases, more people will use that skill to produce music or art. There are people who say 'I spend all day behind a computer; the last thing I want to do after work is look at a computer again,' but for me, the computer is not a burden but more like water. I don't think I'm alone in that regard."
"For me, personally, there's no separation between my activities as a citizen and my activities as an artist."
OUT NOW:
Hyperemployment
Editors
Domenico Quaranta
and
Janez Janša
join a host of contributors in schematizing our current regime of 24/7 work, exploitation, and self-valorization.
Ahead of the sunsetting of Adobe Flash on Dec 31, the Internet Archive announces the preservation of Flash content—SWF files—through emulation. First introduced by Macromedia in 1996, the software was vital for dynamizing the early Web. "From roughly 2000 to 2005, Flash was the top of the heap for a generation of artists, animators, and small studios," writes archivist Jason Scott, warning that a big part of Internet history is now "in true danger of sinking beneath the sea." To run Flash files without the discontinued player, the non-profit digital library incorporated Ruffle, an in-development emulator, into the site. Thus far, more than 1,000 Flash classics have been 'resurrected.'
"If the surface internet is like Art Basel, then the darknet would be your artist-run space in a dirty basement in Bushwick."
In their latest investigation, London-based research agency Forensic Architecture reconstruct the Beirut port explosion that killed more than two hundred people, wounded over 6,500, and destroyed large parts of the city on the evening of Aug 4. Using open-source information including videos, photographs, and documents provided by the independent Egyptian online newspaper Mada Masr, project lead Samaneh Moafi and team provide a meticulous, evidence-based picture of the events and "the multiple layers of state negligence" at play that day.
"GPT-3 is an extraordinary piece of technology, but as intelligent, conscious, smart, aware, perceptive, insightful, sensitive and sensible (etc.) as an old typewriter."
OUT NOW:
AGF
Extinction Stories
An extension of
Extinction Room
(2019), a performative 16-channel sound installation realised together with choreographer Sergiu Matiș, 'audio sculptress' AGF (aka
Antye Greie
) compiles 19 collages on extinct and endangered animal species. All proceeds will go to environmental causes.
"It's equally clear that a massive paradigm shift will be needed to combat the deep-seated belief—which has been entrenched by decades of post-World War II economic policies—that growth is 'the equivalence of life,' and 'not to grow is equivalence of death.'"