JT Nimoy
(1979–2020)
Prolific software artist and creative technologist JT Nimoy dies in San Francisco. Well known for her work as part of the CGI dream team behind TRON: Legacy's visual effects, her voluminous body of experimental and commercial projects stretches back more than two decades. Through her early work at UCLA, MIT, and ITP, and evangelism of Processing, JT played a tangible role in establishing the legitimacy of creative coding in the popular imagination.
Want to dig deeper into disciplinary interstices and entangled knowledge? Join an international community of artists, designers, cultural workers, and educators by becoming a HOLO Reader. You'll receive the annual print edition and get full access to everything we publish online for a year.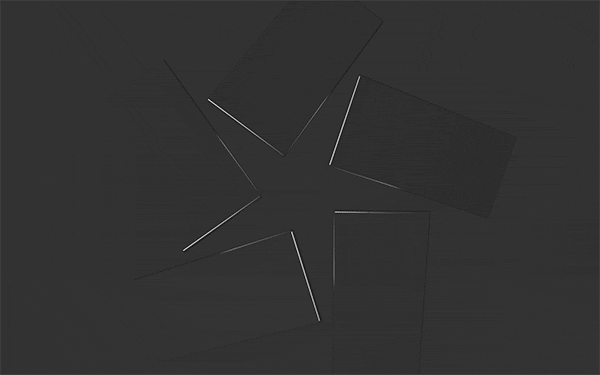 "It's not that the music they make will sound 'more Western,' but it is forced into an unnatural rigidity. The music stops being in tune with itself. A lot of the culture will be gone."
Post-Zoom, post-Twitch, 'share screen' has ushered in a new visual regime. Picking up on this, curator Domenico Quaranta has launched "Studio Visit," where "the desktop studio is shown off as the real space where an artist's practice manifests," baring its "files, tabs, programs" while the artist works away, their routine on display. Developed for the Centre d'Art Contemporain Genève's digital platform 5th floor, the first video features gonzo CG artist Lu Yang, with future 'visits' planned to the desktops of Petra Cortright, Oliver Laric, Eva & Franco Mattes, and others.
Curated by sci-fi author and OG cyberpunk Bruce Sterling, Turin-based Share Festival launches "Born to Be Online," a 'best of' Share Prize-winning projects exhibited over the years. Among Sterling's twelve picks are Paolo Cirio & UBERMORGEN's Amazon Noir (2006, image), Lia's Proximity of Needs (2008), Lauren Lee McCarthy's Follower (2016) and Milad Tangshir's VR Free (2019), all exploring different aspects of the Internet age. "With this summary of fifteen years of our involvement in net.art, we at Share Festival are bracing ourselves for what comes next."
DOSSIER:
"We hit a wall: how can we pick a single theme with so many simultaneous urgencies? What's the longevity of a timely research topic in light of mutating global crises and rapidly evolving tech?"
Co-curated by Sean Sandusky and Dana Snow for Toronto's InterAccess, "QUEERSPHERE" is an online exhibition inspired by Queer and Trans social media communities in the 2000s. A site where "worldbuilding is allowed to flourish outside of the pressures of corporatization and flat representation," the show nostalgically yearns for pre-NSFW content ban Tumblr and other platforms, while looking forward via ruminations on Queer AI and campy caricature of Boston Dynamics' robodog Spot. Featured artists include Keiko Hart, Maxwell Lander, and Lucas LaRochelle (image: LaRochelle's QT.Bot).
ENCOUNTER:
"So many people are afraid of science in the art world because it is more creative and innovative. There are far more new ideas in New Scientist than in frieze."
"We have been told there would still be access to Double Negative, but the power of the place would be lost forever."
"Working within the art space means working through ethical dilemmas—all these disparities—unethical relations and roles, creating resources and opportunities … it can be liberating and revolutionary."
The link between new media art and knowledge work was writ large in Xerox Art. Kate Eichhorn's 2016 book Adjusted Margin parsed the role the photocopier played in the 1970-90s NYC Art scene in meticulous detail. An excerpt published in the MIT Press Reader introduces the convergence of technological, economic, and aesthetic forces that shaped this under-documented niche genre (image: a page from David Wojnarowicz's 1988 zine In the Shadow of Forward Motion).
"Provocative art can help push a useful dialogue about the role of technology in our daily lives. This art, however, fundamentally misrepresents Spot® and how it is being used to benefit our daily lives."
After a 203-day journey traversing 472 million kilometers, NASA confirms the touchdown of its largest, most advanced rover on Mars. With a primary objective of astrobiology research, Perseverance will search for signs of ancient microbial life and collect Mars samples (to be returned to Earth in subsequent missions). Perseverance's first image, sent shortly after touchdown, shows the view from one of its hazard cameras. "Hello, world. My first look at my forever home," stated the rover's (chatty) Twitter account.
"Message for Mr.doob 10 years ago: Yes, making a 3D engine using canvas2d is stupid. But in 10 years, you'll watch a simulation in realtime of NASA landing a rover on Mars that uses that stupid code."
A purveyor of handcrafted digital aesthetics from yesteryear, emerging German artist Arno Beck releases a new series of 6-layer woodblock prints. Mirage (image) and Bird on a Wire were printed by Marginal Editions, New York, and are available from the artist.