"I think there should be no such thing as billionaires and that Space is a commons and a place for the public good, where civilization at large does its work through its governments to try to protect Earth's biosphere … it doesn't work, to make a profit in space."
Want to dig deeper into disciplinary interstices and entangled knowledge? Join an international community of artists, designers, cultural workers, and educators by becoming a HOLO Reader. You'll receive the annual print edition and get full access to everything we publish online for a year.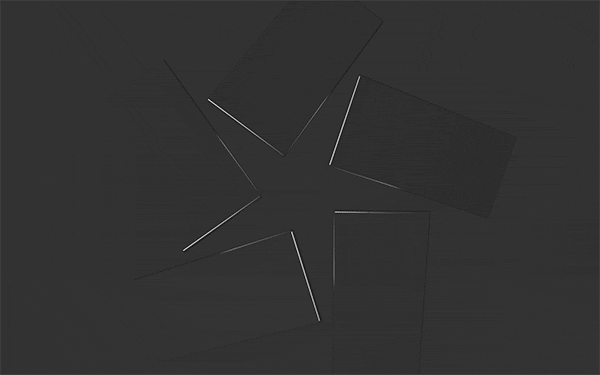 "People don't associate softness with programming languages and I think that the p5.js community and the language itself actually shows that that kind of [love ethic] is possible."
With the help of an ultra-precise X-ray microscope, a German-Polish research team successfully recorded the world's first video of a space-time crystal. An enigmatic state of matter confirmed to exist only recently, this micrometer-sized specimen was created using magnon quasiparticles at room temperature—another first. The video reveals the atomic oscillations known as 'ticking' associated with time crystals as their structures repeat in space and time. "We were able to show that such crystals are much more robust and widespread than first thought," states Pawel Gruszecki of the Adam Mickiewicz University in Poland. "The potential for communication, radar, or imaging technology is huge," adds Joachim Gräfe of the Max Planck Institute for Intelligent Systems in Germany.
"These new marketplaces are fatally flawed. The leveraging of an artist or artwork into a speculative investment scheme is underpinned by neoliberal techno-politics."
Post-Zoom, post-Twitch, 'share screen' has ushered in a new visual regime. Picking up on this, curator Domenico Quaranta has launched "Studio Visit," where "the desktop studio is shown off as the real space where an artist's practice manifests," baring its "files, tabs, programs" while the artist works away, their routine on display. Developed for the Centre d'Art Contemporain Genève's digital platform 5th floor, the first video features gonzo CGI artist Lu Yang, with future 'visits' planned to the desktops of Petra Cortright, Oliver Laric, Eva & Franco Mattes, and others.
"It's not that the music they make will sound 'more Western,' but it is forced into an unnatural rigidity. The music stops being in tune with itself. A lot of the culture will be gone."
Curated by sci-fi author and OG cyberpunk Bruce Sterling, Turin-based Share Festival launches "Born to Be Online," a 'best of' Share Prize-winning projects exhibited over the years. Among Sterling's twelve picks are Paolo Cirio & UBERMORGEN's Amazon Noir (2006, image), Lia's Proximity of Needs (2008), Lauren Lee McCarthy's Follower (2016) and Milad Tangshir's VR Free (2019), all exploring different aspects of the Internet age. "With this summary of fifteen years of our involvement in net.art, we at Share Festival are bracing ourselves for what comes next."
DOSSIER:
"We hit a wall: how can we pick a single theme with so many simultaneous urgencies? What's the longevity of a timely research topic in light of mutating global crises and rapidly evolving tech?"
Co-curated by Sean Sandusky and Dana Snow for Toronto's InterAccess, "QUEERSPHERE" is an online exhibition inspired by Queer and Trans social media communities in the 2000s. A site where "worldbuilding is allowed to flourish outside of the pressures of corporatization and flat representation," the show nostalgically yearns for pre-NSFW content ban Tumblr and other platforms, while looking forward via ruminations on Queer AI and campy caricature of Boston Dynamics' robodog Spot. Featured artists include Keiko Hart, Maxwell Lander, and Lucas LaRochelle (image: LaRochelle's QT.Bot).
ENCOUNTER:
"So many people are afraid of science in the art world because it is more creative and innovative. There are far more new ideas in New Scientist than in frieze."
"We have been told there would still be access to Double Negative, but the power of the place would be lost forever."
"Today, much of the most influential theory no longer provides clear explanations for what we observe in the world. From being a means to that end, it has become instead an end in itself."
After ousting its longstanding director Marcos García in January, Madrid City Council announces the end of Medialab Prado (MLP) in its current form. The pioneering cultural space and citizen lab will lose its iconic home of 20 years—a central building with a signature media facade, adjacent to major museums—and move to the Matadero facilities to coexist with other civic initiatives. The extended MLP community is pushing back: organized as [We Are The Lab], they call for the project's continuation in a manifesto that you can sign here.