"We already live in a society which is very heavily gendered and very visually gendered. What these technologies are doing is making those decisions a lot more efficient, a lot more automatic, and a lot more difficult to challenge."
Want to dig deeper into disciplinary interstices and entangled knowledge? Join an international community of artists, designers, cultural workers, and educators by becoming a HOLO Reader. You'll receive the annual print edition and get full access to everything we publish online for a year.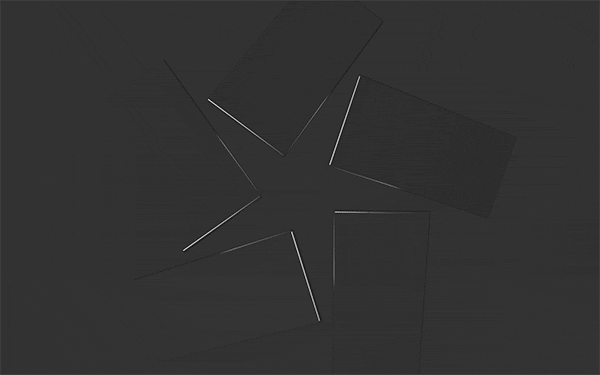 Songs of the Humpback Whale made waves in the 1970s, shaping new age culture and the environmental movement. For e-flux, Alaina Claire Feldman offers a definitive history—delving into the album's cold war origins (surveillance for Russian submarines) and its artifice (assembled in an editing suite). Framing whales as "barometers of the traffic and health of our oceans," she describes the "minor listening" we do, in reconstructing the ocean's soundscape for human consumption.
DOSSIER:
"What if, instead of focusing on production capacity and economic growth, we started to take attempts to measure internal transformation more seriously? One result might be that more countries adopt universal healthcare, free education, and a higher minimum wage."
A trail of early and recent cryptoart laid out by curator Kenny Schachter, "Breadcrumbs: Art in the Age of NFTism" opens at Cologne's Galerie Nagel Draxler. Works by 16 artists including Rhea Myers, Kevin Abosch, Anna Ridler, and Sarah Friend are presented in an eccentric installation—photos, paintings, objects, and screens are augmented with written commentary—and soon as NFTs. "The show will put to rest two demonstrably false assumptions: that this is a fad, and/or not art," writes Schachter.
"Nakajima said he doesn't know how long he'll keep Soya alive. But he said he's grateful for the way she helped him feel: carefree, adventurous, seen."
Digital art pioneer Manfred Mohr celebrates the 50th anniversary of his solo show "Computer Graphics: Une Esthétique Programmée," that opened at ARC Musée d'Art Moderne, Paris, on May 11, 1971. "I showed around 25 computer generated pen plotter drawings," Mohr writes in his newsletter, "and demonstrated the use of a flat-bed plotter" (image). "Thanks to the incredible foresight of Pierre Gaudibert, founder and director of ARC, this show became the first one-person show of digital art in a museum."
"There is no Chinese mathematics and French mathematics. Mathematics is just one."
Combining photography, poetry, and monumental pixel builds, Ender Gallery's inaugural resident Cat Haine opens the Minecraft exhibition space with a "playful transfeminist intervention." Exploring the platform's potential for queer and trans intimacies, Haine's "(g)Ender Gallery" features a colossal reconstruction of the artist's surgically-constructed vagina that contains text and images reflecting upon her transition.
SFMOMA's "Nam June Paik" presents 200 works by the pioneering video and installation artist in a major retrospective. It takes a show of this scale to weigh Paik's influence on media art, and key works like TV Chair (1968), TV Garden (1974, image), and Sistine Chapel (1993) are included. The middle work of that trio "epitomizes one of Paik's great strengths," says co-curator Andrea Nitsche-Krupp, "the ability to revisit, permutate, and recombine ideas, images, and concepts into newly generative work."
"These gangs figure out, here's a bunch of internet-facing devices, here are vulnerabilities that give us access to them, and here are the IP ranges of a bunch of big industrial companies. Cool, let's go big game hunting."
Opening at Jane Lombard Gallery, New York, "Doku: Digital Alaya" puts Chinese CGI artist Lu Yang's latest digital avatar front and centre. Created with a team of scientists, technologists, and 3D animators using motion capture, the non-binary, androgynous Doku appears in six virtual environments, each representing a Buddhist realm of reincarnation. Displayed on light-boxes, in videos, and installations, "the artist is reborn repeatedly," extending life's cycle into cyberspace.
"Those ten years are also ten years of my life, a trajectory from books to web to art and round and round and round again, drones, datacentres, self-driving cars and flamingos; unnumbered conferences, weird conversations and C-Beams glittering in the dark."
An output of this year's entirely online edition of Rewire festival (NL), Instance Terrain Crawler launches. A browser-based offshoot of MSHR's (Birch Cooper & Brenna Murphy) "sculptural electronic systems," its wonky 3D environs are both explorable and interactive. Full of blocky totemic forms—objects and waveforms oscillate in unison—its loud polychromy and gloppy synthesized sounds evoke a demented Minecraft world, the likes of which could only emerge from the Pacific Northwest.
"The mainstream capial-A Art institutions are the Titanic, and crowdfunding, Discord, and the communities we're trying to cultivate are a liferaft. In the long term, my objective is to re-dock with the institutions, once they've course-corrected to avoid the giant neoliberal iceberg."
OUT NOW:
Jer Thorp
Living in Data
"A Citizen's Guide to a Better Information Future" in which the esteemed
data artist
charts hopeful paths through the age of surveillance capitalism wherein our data is mined and processed for profit, power, and political gain