OUT NOW:
The New Normal
Emerging from a 3-year
research program
initiated by Moscow's Strelka Institute, editors Benjamin H. Bratton, Nicolay Boyadjiev, Nick Axel, and a host of collaborators consider the impact of planetary-scale computation on urban futures.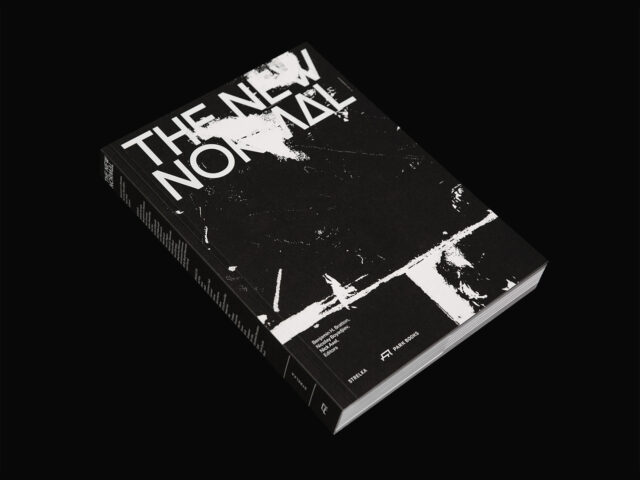 Welcome to HOLO 2.5, the new digital arm of HOLO magazine! We don't think it's odd to be celebrating an in-between issue as HOLO is all about interstices: first between disciplines, now between mediums. Please take a look around; for more details on our new online home read the welcome note, linked below.
DOSSIER:
"TRANSFER is operating on a different timescale than most galleries trying to turn a profit to keep their doors open. The gallery exists to help bring artworks into the world, but our motivation is never around selling work in the short-term."
"UNINVITED brings to life a new being, born of the combination of surveillance data with the hallucinatory state experienced by many device systems when infected with a virus."
The Society For Non-Trivial Pursuits (S4NTP, affiliated with UdK Berlin's Generative Art class) launches "Future Voices," a one-year-long radio broadcast generated from people's "hopes, fears, and dreams," uploaded as audio recordings from around the world. Commissioned for Berlin's CTM Festival, the project hopes to amplify "voices that would otherwise remain unheard within an attention economy that favours loudness, provocation, and conspiracy theories."
"Twitter and Facebook and other platforms are now trying to put the genie back in the bottle. They could have done something long before, but they chickened out. And they created a monster."
OUT NOW:
Golan Levin & Tega Brain
Code as Creative Medium
A deep resource for teachers focused on the expressive potential of code, loaded with syllabi suggestions, road-tested assignemnts, and interviews with leading educators.
"What distinguishes workmanship, craft, and making from industry is uncertainty. There's a 'risk' in the process that resolves between the maker's discernment and dexterity."
"What if satellites were art?" Régine Debatty recounts her visit to "Unseen Stars," Trevor Paglen's (temporarily closed) solo exhibition at OGR Torino in Turin, Italy. Revisiting his spacefaring sculpture Orbital Reflector (2018), the show comprises a series of non-functional satellites Paglen designed together with aerospace engineers. Their featureless mirror-surfaces demonstrate what space exploration could look like if, as Debatty puts it, "it were not guided by nationalism, global surveillance, and industrial logics."
"I hope to inspire people like me to use their skillset for political purposes—hacking is political."
Visual artist David Shrigley "fucks all your devices" with unabashed tech cynicism (and rare earth metals)
DOSSIER:
"It's important to move away from the idea of energy as a metaphor 'tinged with virtue' and towards a concept of energy as a 'scientific entity' with a material imprint. This, I would argue, is where artists come in."
Inspired by how SCOBY (symbiotic culture of bacteria and yeast) is used to ferment kombucha, MIT and Imperial College London researchers have produced several proof of concept living materials. Drawing on the flexibility of lab-grown yeast, Timothy Lu (MIT) and Tom Ellis (Imperial College) have produced microbe cultures that detect environmental pollutants, and glow in the dark when exposed to certain hues of light. "We foresee a future where diverse materials could be grown at home or in local production facilities, using biology rather than resource-intensive centralized manufacturing," says Lu.
"What you're offering by [encoding digital data as DNA] inside the cell is the machinery the cell has to protect its DNA."
"I find virtual studio visits most successful when I get a tour of artists' hard drives—having their desktop appear on my own creates an interesting new form of shared space."