Combining the talents of Araiz Mesanza (illustration) and Raquel Meyers (animation), Inattention is a short film that revels in the anxiety of our current moment. Initiated during a residency at Irudika earlier this year and completed during lockdown, the Teletext-animated short was just released on YouTube.
Want to dig deeper into disciplinary interstices and entangled knowledge? Join an international community of artists, designers, cultural workers, and educators by becoming a HOLO Reader. You'll receive the annual print edition and get full access to everything we publish for a year.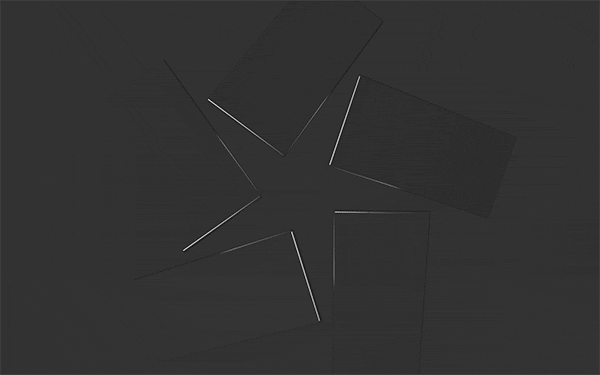 DOSSIER:
"We hit a wall: how can we pick a single theme with so many concurring urgencies? What's the longevity of a timely research topic in light of mutating global crises and rapidly evolving tech?"
Co-curated by Sean Sandusky and Dana Snow for Toronto's InterAccess, "QUEERSPHERE" is an online exhibition inspired by Queer and Trans social media communities in the 2000s. A site where "imaginations, social groups, and worldbuilding are allowed to flourish outside of the pressures of corporatization and flat representation," the show nostalgically evokes pre-NSFW content ban Tumblr and other platforms. Featured artists include Keiko Hart, Maxwell Lander, and Lucas LaRochelle (image: LaRochelle's QT.Bot).
The link between new media art and knowledge work was writ large in Xerox Art. Kate Eichhorn's 2016 book Adjusted Margin parsed the role the photocopier played in the 1970-90s NYC Art scene in meticulous detail, and this excerpt introduces the convergence of technological, economic, and aesthetic forces that shaped this under-documented niche genre (image: a page from David Wojnarowicz's 1988 zine In the Shadow of Forward Motion).
"Provocative art can help push a useful dialogue about the role of technology in our daily lives. This art, however, fundamentally misrepresents Spot® and how it is being used to benefit our daily lives."
After a 203-day journey traversing 472 million kilometers, NASA confirms the touchdown of its largest, most advanced rover on Mars. With a primary objective of astrobiology research, Perseverance will search for signs of ancient microbial life and collect Mars samples (to be returned to Earth in subsequent missions). Perseverance's first image, sent shortly after touchdown, shows the view from one of its hazard cameras. "Hello, world. My first look at my forever home," stated the rover's (chatty) Twitter account.
"Message for Mr.doob 10 years ago: Yes, making a 3D engine using canvas2d is stupid. But in 10 years, you'll watch a simulation in realtime of NASA landing a rover on Mars that uses that stupid code."
A purveyor of handcrafted digital aesthetics from yesteryear, emerging German artist Arno Beck releases a new series of 6-layer woodblock prints. Mirage (image) and Bird on a Wire were printed by Marginal Editions, New York, and are available from the artist.
What is the exchange rate between Ethereum and vintage memes? In 2011, Christopher Torres uploaded a video entitled Nyan Cat to YouTube and it became a viral sensation. In 2021 that pop tart rainbow-trailing space cat is a blast from the past—internet lore concentrate. An auction for a single edition "remastered" version of the 12-frame GIF is now live on the Foundation NFT (non-fungible token) marketplace. Bidding just opened, we're about to see how much nostalgia is worth. Update: Nyan Cat sold for 300 ETH ($575,000 USD)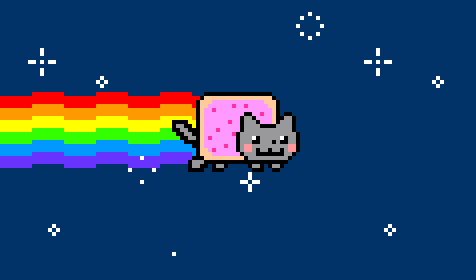 "It turns out my release of six CryptoArt works consumed in 10 seconds more electricity than the entire studio over the past two years."
Enjoying a productive 'retirement' after its contribution to the Dark Energy Survey, The Dark Energy Camera (DECam) has captured one of the deepest images ever taken of Messier 83, a barred spiral galaxy nicknamed the Southern Pinwheel that is 15 million light-years away (i.e. our next door neighbour) in the southern constellation of Hydra. "Six different filters … and 163 DECam exposures, with a total combined exposure time of 11.3 hours, went into creating this portrait," the researchers reveal.
"When a curator kept demanding to hear the artist speak, she just got on and said 'none of us have any capacity left to perform 24/7' and then left the room."
Eyebeam Rapid Response fellows Tega Brain, Alex Nathanson, and Benedetta Piantella launch Solar Protocol at Eyebeam's "From the Rupture: Ideas and Actions for the Future" festival. One of eight presented projects, Solar Protocol is a web platform hosted on a "naturally intelligent network" of (currently) five solar-powered servers that automatically directs traffic to whichever server is getting the most sunlight. How the website is rendered (media resolution, etc.) depends on the active server's battery charge and customizations made by local server stewards. You can become one here.