Want to dig deeper into disciplinary interstices and entangled knowledge? Join an international community of artists, designers, cultural workers, and educators by becoming a HOLO Reader. You'll receive the annual print edition and get full access to everything we publish online for a year.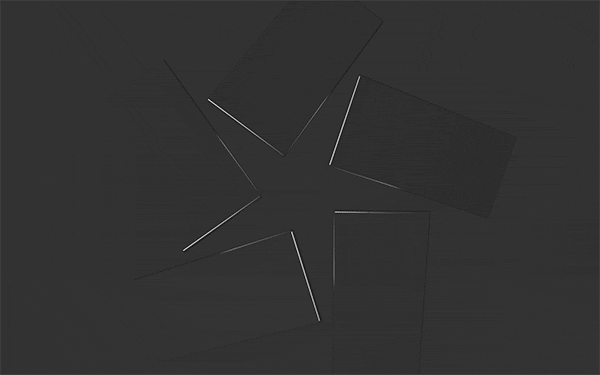 The Shape of Light, a moving image work by Ellen Pau created especially for the media façade of newly-opened M+ museum, opens in Hong Kong's West Kowloon Cultural District. Co-commissioned with Art Basel, the short film deploys the Buddhist Heart Sutra's rumination on form and emptiness in a CGI narrative about elemental transformation. With the film, Pau offers "a gesture of guidance and hope" for her native city's citizens, presumably alluding to their steadily eroding self-governance.
"Earth Indices: Processing the Anthropocene," a show by Giulia Bruno & Armin Linke working in consultation with the Anthropocene Working Group, opens at Berlin's Haus der Kulturen der Welt (HKW). Foregrounding imagery that translates evidence of the earth's transformation into "data that can be interpreted" (image: Line Scans of Antarctica Ice Core, 2022), the show reveals the "instruments, procedures, and practices" that produce geological knowledge, write the curators.
"I think of this as a monument that has been purpose-built to be torn down. It shouldn't be the job of artists to save the planet, but sometimes we can create social and conceptual infrastructure to guide attention and action."
DOSSIER:
In her latest entry to "Weaving Variations," HOLO's dossier on generative art pioneer Vera Molnar, art historian Zsofi Valyi-Nagy examines Hommage à Barbaud, a 1974 tribute to the French founder of algorithmic music, Pierre Barbaud. "By dedicating a work to Barbaud, Molnar immortalizes the impact of algorithmic music on her work, and on early computer art more broadly," writes Valyi-Nagy.
"I'm starting to accept that the 1995-2020 period didn't happen, and that generative art emerged out of nothingness in 2020 after being dormant for 40-50 years. People keep telling me, so it must be true."
Emerging trajectories in art, science, and technology (since 2012)
As an editorial and curatorial platform, HOLO explores disciplinary interstices and entangled knowledge as epicentres of critical creative practice, radical imagination, research, and activism
"I feel the language and concepts I'm working with don't comfortably fit within the normal discourse about art and aesthetics. CERN's physicists and engineers understood the tools I was using and I was able to talk about my goals. I just couldn't have that kind of dialogue in an art context."—sound artist Bill Fontana on his CERN residency (HOLO 2, p.206)
There is a space between a computer's command line interface and the contemporary art museum, the legalese of Silicon Valley's terms and conditions and the social contract, the whoosh of a particle accelerator and the romanticized "a ha" of artistic inspiration. For much of the twentieth century these gaps were chasms, separating science and engineering from the humanities and siloing them off; today, these gaps are narrowing and disciplinary interstices are the spaces to watch. Increasingly aware of how much technology governs not only entrenched fields of study but every aspect of modern life, we've come to realise that things are deeply intertwined.
HOLO emerged in 2012 to explore these entanglements—first with a periodical, now across an expanded platform. Set up in the grey zones between art, science, and technology, it frames scientific research and emerging technologies as being more than sites of invention and innovation—as epicentres of critical creative practice, radical imagination, and activism. The artists and designers working with related materials—algorithms and microcontrollers, meteoroids and fungi, data and archives—aren't just updating notions of craft for the twenty-first century, they are researchers and cultural critics.
As an editorial and curatorial platform, HOLO occupies the same eccentric vantage points as these hybrid creative practices and puts them into perspective. Working across multiple avenues—print and online, events and production—HOLO collaborates with contributors and cultural partners to facilitate fruitful dialogue between domains and bring new voices into the conversation.


Selected collaborators:
© 2022 HOLO V2.5.1 (beta)
We produce:
Artist talks
Panel discussions
Performances
Installations
Workshops
Editorial
Publications
Over the last decade HOLO has curated more than 500 cultural initiatives worldwide
Selected partners: