Want to dig deeper into disciplinary interstices and entangled knowledge? Join an international community of artists, designers, cultural workers, and educators by becoming a HOLO Reader. You'll receive the annual print edition and get full access to everything we publish online for a year.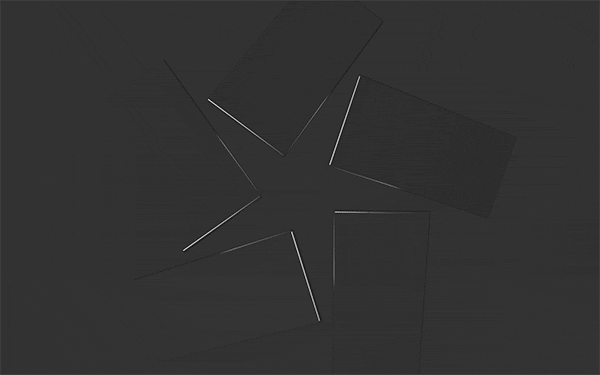 "Boston Dynamics, the best-known manufacturer of quadrupedal robots, has a strict policy agains weaponizing its machines. Other manufacturers, it seems, aren't so picky."
"Offshore finance pierces reality," French artist collective RYBN reflects on their Offshore Tours (2018-20) in a Palm editorial. Over two years, the artists mapped 785,000 leaked addresses tied to offshore activity. "Behind each photographed facade hides a hot spot, a gap in the urban landscape connected to elsewhere, a true crossing point to offshore space," they write. "These addresses are deserted at the very moment of their unveiling, the tracking of offshore finance thus turns into ghost hunting."
DOSSIER:
"Making the 'decision-making process' of a predator drone more 'legible' to the general public seems a fatuous achievement. Even more so if it is an explanation in service of a capitalist state or state capital, and we know how that works."
Extending out of Oli Sorenson's visual cataloguing of the technological artifacts and compromised landscapes of our current era, "Diamond edition: Panorama of the Anthropocene" opens at Montréal's ELEKTRA Gallery. For the show, Sorenson adapts material from the his ongoing painting and inkjet series about the perennial clash between production and nature (image: Oil extraction detail, 2020) rendered in the style of "Minecraft's landscapes and Peter Halley's geometries," and (re)presents it on angled digital displays.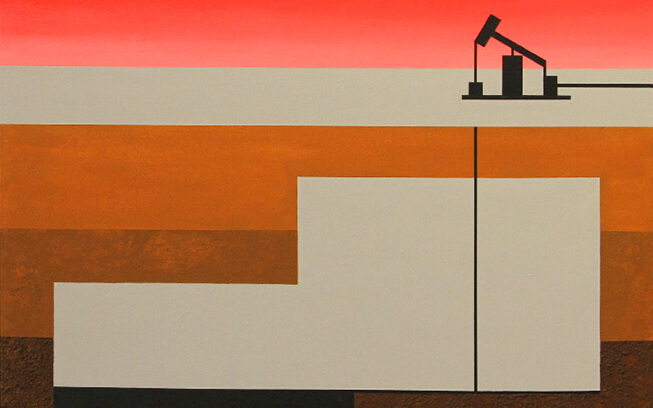 "The only thing we can make now is ourselves; day after day, again and again. To sculpt one's own individuality has ballooned into an endless task. To post every day, to express yourself creatively, to have opinions on the churning discourse."
Emerging trajectories in art, science, and technology (since 2012)
As an editorial and curatorial platform, HOLO explores disciplinary interstices and entangled knowledge as epicentres of critical creative practice, radical imagination, research, and activism
"I feel the language and concepts I'm working with don't comfortably fit within the normal discourse about art and aesthetics. CERN's physicists and engineers understood the tools I was using and I was able to talk about my goals. I just couldn't have that kind of dialogue in an art context."—sound artist Bill Fontana on his CERN residency (HOLO 2, p.206)
There is a space between a computer's command line interface and the contemporary art museum, the legalese of Silicon Valley's terms and conditions and the social contract, the whoosh of a particle accelerator and the romanticized "a ha" of artistic inspiration. For much of the twentieth century these gaps were chasms, separating science and engineering from the humanities and siloing them off; today, these gaps are narrowing and disciplinary interstices are the spaces to watch. Increasingly aware of how much technology governs not only entrenched fields of study but every aspect of modern life, we've come to realise that things are deeply intertwined.
HOLO emerged in 2012 to explore these entanglements—first with a periodical, now across an expanded platform. Set up in the grey zones between art, science, and technology, it frames scientific research and emerging technologies as being more than sites of invention and innovation—as epicentres of critical creative practice, radical imagination, and activism. The artists and designers working with related materials—algorithms and microcontrollers, meteoroids and fungi, data and archives—aren't just updating notions of craft for the twenty-first century, they are researchers and cultural critics.
As an editorial and curatorial platform, HOLO occupies the same eccentric vantage points as these hybrid creative practices and puts them into perspective. Working across multiple avenues—print and online, events and production—HOLO collaborates with contributors and cultural partners to facilitate fruitful dialogue between domains and bring new voices into the conversation.


Selected collaborators:
© 2021 HOLO V2.5.1 (beta)
We produce:
Artist talks
Panel discussions
Performances
Installations
Workshops
Editorial
Publications
Over the last decade HOLO has curated more than 500 cultural initiatives worldwide
Selected partners: