Want to dig deeper into disciplinary interstices and entangled knowledge? Join an international community of artists, designers, cultural workers, and educators by becoming a HOLO Reader. You'll receive the annual print edition and get full access to everything we publish online for a year.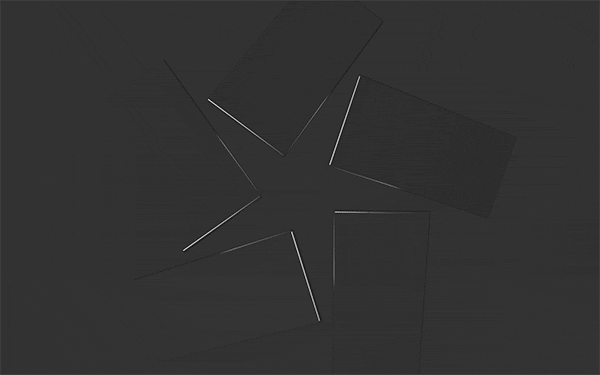 "Call me a Gen-X'er, but I'm troubled by artwashing as a means of distancing from bigger issues, like the lack of governmental regulation of consolidation, racist AI, tunnel-effects of social media, etc. I'm almost nostalgic for days when banks bought art for lobbies."
"I wanted to see what human-generated randomness looks like," writes Jonathan Chomko of his NFT project Proof of Work. Extending out his previous prompt-driven choreography, the Montréal artist created software for collecting random values from "small-scale" gestures: typing random characters on a keyboard. Experiments with scale and colour yielded a pixellated visual language and, post-NFT drop, he notes the labourious process "records a minimum viable artwork, the hand of the artist visible in the digital image."
DOSSIER:
"Can we place myths about the growing body of artificial intelligence or algorithmic knowledge, in all its obfuscation and enchantment, in parallel to grand narratives of technology?"
Agnes Scherer's "The Notebook Simulations," supersizes the laptop, rendering its mythos in paint (not pixels)
"Time Holds All the Answers," a survey of Postcommodity's work opens at Remai Modern in Saskatoon, Canada. Duo Cristóbal Martínez and Kade L. Twist have long "injected Indigenous knowledge systems into the museum," challenging its hermeticism and, here, Let Us Pray For the Water Between Us (2020, image) transforms an 8,300 L hazmat storage container into a drum with a motorized mallet sounding interior rhythms, reverberating calls for "respect, accountability, and transparency" in water stewardship.
Emerging trajectories in art, science, and technology (since 2012)
As an editorial and curatorial platform, HOLO explores disciplinary interstices and entangled knowledge as epicentres of critical creative practice, radical imagination, research, and activism
"I feel the language and concepts I'm working with don't comfortably fit within the normal discourse about art and aesthetics. CERN's physicists and engineers understood the tools I was using and I was able to talk about my goals. I just couldn't have that kind of dialogue in an art context."—sound artist Bill Fontana on his CERN residency (HOLO 2, p.206)
There is a space between a computer's command line interface and the contemporary art museum, the legalese of Silicon Valley's terms and conditions and the social contract, the whoosh of a particle accelerator and the romanticized "a ha" of artistic inspiration. For much of the twentieth century these gaps were chasms, separating science and engineering from the humanities and siloing them off; today, these gaps are narrowing and disciplinary interstices are the spaces to watch. Increasingly aware of how much technology governs not only entrenched fields of study but every aspect of modern life, we've come to realise that things are deeply intertwined.
HOLO emerged in 2012 to explore these entanglements—first with a periodical, now across an expanded platform. Set up in the grey zones between art, science, and technology, it frames scientific research and emerging technologies as being more than sites of invention and innovation—as epicentres of critical creative practice, radical imagination, and activism. The artists and designers working with related materials—algorithms and microcontrollers, meteoroids and fungi, data and archives—aren't just updating notions of craft for the twenty-first century, they are researchers and cultural critics.
As an editorial and curatorial platform, HOLO occupies the same eccentric vantage points as these hybrid creative practices and puts them into perspective. Working across multiple avenues—print and online, events and production—HOLO collaborates with contributors and cultural partners to facilitate fruitful dialogue between domains and bring new voices into the conversation.


Selected collaborators:
© 2021 HOLO V2.5.1 (beta)
We produce:
Artist talks
Panel discussions
Performances
Installations
Workshops
Editorial
Publications
Over the last decade HOLO has curated more than 500 cultural initiatives worldwide
Selected partners: