Want to dig deeper into disciplinary interstices and entangled knowledge? Join an international community of artists, designers, cultural workers, and educators by becoming a HOLO Reader. You'll receive the annual print edition and get full access to everything we publish online for a year.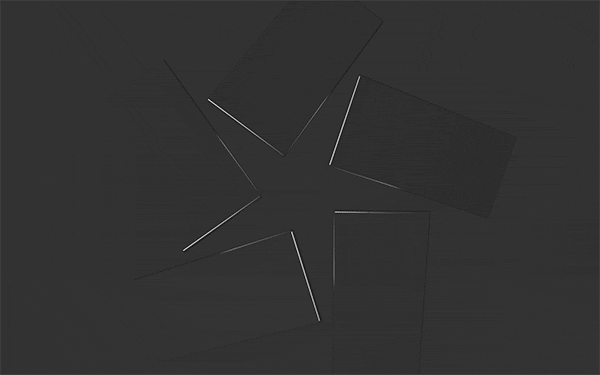 Patrick Tanguay weighs in on the metaverse, moving beyond stock claims on and critiques of the term. The problem, with 'the metaverse,' is it's whatever you want it to be; VR or videogame developers see problems of interaction and immersion, crypto boosters and the web3 crowd speak of economic empowerment and decentralization. Here, Patrick uses the early days of the web to think about open standards and platform capitalism, and his reading is better off for it. Of note: his description of "a full world, at movie quality," which imagines the blockbuster media property as a new kind of persistent experience. He is spot-on, in stating "the merging of the tools and interim steps are actually much more interesting … and offer much more varied potential than those 4-5-6 futures currently vying for the word metaverse."
ENCOUNTER:
"I'm interested in using data as a substrate for more abstract visualizations—systems that don't so much embody the actual data as patterns and trends that might exist hidden within them."
"The harms caused by this widespread, unregulated corporate surveillance pose a direct threat to the public at large, especially for Black and brown people most often criminalized using surveillance."
Underscoring Tetem's [NL] commitment to hybrid experiences, an online component for "Eclipse" launches. Ali Eslami and Mathilde Renault's exhibbition has been open for weeks, but, as of today, remote participants can book access to "discover the extent of their physicality … [and] their interactions with one another." An offshoot of Eslami's ongoing VR experiments, this browser-based iteration allows users to inhabit an avian avatar, and interact with more corporeal forms that are only accessible to visitors of the IRL exhibition.
Emerging trajectories in art, science, and technology (since 2012)
As an editorial and curatorial platform, HOLO explores disciplinary interstices and entangled knowledge as epicentres of critical creative practice, radical imagination, research, and activism
"I feel the language and concepts I'm working with don't comfortably fit within the normal discourse about art and aesthetics. CERN's physicists and engineers understood the tools I was using and I was able to talk about my goals. I just couldn't have that kind of dialogue in an art context."—sound artist Bill Fontana on his CERN residency (HOLO 2, p.206)
There is a space between a computer's command line interface and the contemporary art museum, the legalese of Silicon Valley's terms and conditions and the social contract, the whoosh of a particle accelerator and the romanticized "a ha" of artistic inspiration. For much of the twentieth century these gaps were chasms, separating science and engineering from the humanities and siloing them off; today, these gaps are narrowing and disciplinary interstices are the spaces to watch. Increasingly aware of how much technology governs not only entrenched fields of study but every aspect of modern life, we've come to realise that things are deeply intertwined.
HOLO emerged in 2012 to explore these entanglements—first with a periodical, now across an expanded platform. Set up in the grey zones between art, science, and technology, it frames scientific research and emerging technologies as being more than sites of invention and innovation—as epicentres of critical creative practice, radical imagination, and activism. The artists and designers working with related materials—algorithms and microcontrollers, meteoroids and fungi, data and archives—aren't just updating notions of craft for the twenty-first century, they are researchers and cultural critics.
As an editorial and curatorial platform, HOLO occupies the same eccentric vantage points as these hybrid creative practices and puts them into perspective. Working across multiple avenues—print and online, events and production—HOLO collaborates with contributors and cultural partners to facilitate fruitful dialogue between domains and bring new voices into the conversation.


Selected collaborators:
© 2021 HOLO V2.5.1 (beta)
We produce:
Artist talks
Panel discussions
Performances
Installations
Workshops
Editorial
Publications
Over the last decade HOLO has curated more than 500 cultural initiatives worldwide
Selected partners: