Want to dig deeper into disciplinary interstices and entangled knowledge? Join an international community of artists, designers, cultural workers, and educators by becoming a HOLO Reader. You'll receive the annual print edition and get full access to everything we publish online for a year.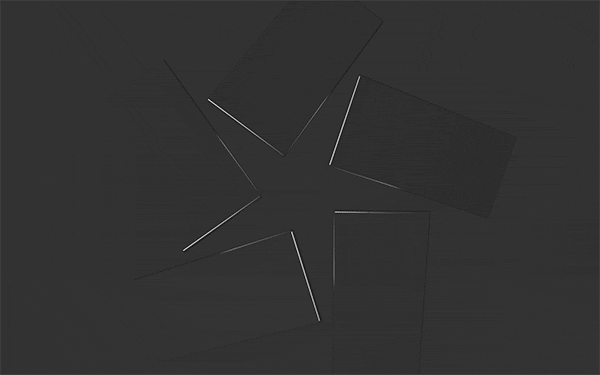 "Using steganography, I have hidden the whole essay inside the JPEG. Yes, you're looking at a conceptual artwork that is currently explaining itself to you."
Artists Ben Rubin and Brian House's "Terminal Moraine" opens at Brooklyn Botanical Gardens. Taking a meta-historical approach, its lone eponymous work models the local impact of the Laurentide ice sheet. Approximately 18,000 years ago, the 600 metre wall of ice flowed down the Hudson Valley and shaped the landscape—Rubin and House simulate the glacial retreat and forest growth that followed. In their sonification "cells expand and branch while crystalline structures gradually break apart," helping listeners contemplate the deep time of history.
"This is a time not only to ask how to resurface differently, but to ask what foundations to urgently sink—to recognise that it's not enough to abandon, but that we have a role to abolish normal devices."
A collaboration between sound designer Yuri Suzuki and musical artist and composer Miyu Hosoi, Crowd Cloud is unveiled at Haneda Airport, Japan. The site-specific installation distils the vowels of the Japanese language, sung by Hosoi, creating a unique composition that emanates from a choir of dozens of standing horns that converse with each other like people. Crowd Cloud is part of the Paola Antonelli-curated "Culture Gate" exhibition that sees artists offer fresh interpretations of Japan's diverse culture in airports across the country.
"Myths unfold in real-time alongside critical 'reveals,' unveilings, and clarifications. Cultural gaps between the humanities and the sciences expand even as artists and interdisciplinary practitioners work to collapse them."
Next Encounter
Coming Soon
Encounters is a monthly interview series that profiles interdisciplinary artists, designers, curators, and researchers in-depth, up close, and personal. For full access, become a HOLO Reader.
Emerging trajectories in art, science, and technology (since 2012)
As an editorial and curatorial platform, HOLO explores disciplinary interstices and entangled knowledge as epicentres of critical creative practice, radical imagination, research, and activism
"I feel the language and concepts I'm working with don't comfortably fit within the normal discourse about art and aesthetics. CERN's physicists and engineers understood the tools I was using and I was able to talk about my goals. I just couldn't have that kind of dialogue in an art context."—sound artist Bill Fontana on his CERN residency (HOLO 2, p.206)
There is a space between a computer's command line interface and the contemporary art museum, the legalese of Silicon Valley's terms and conditions and the social contract, the whoosh of a particle accelerator and the romanticized "a ha" of artistic inspiration. For much of the twentieth century these gaps were chasms, separating science and engineering from the humanities and siloing them off; today, these gaps are narrowing and disciplinary interstices are the spaces to watch. Increasingly aware of how much technology governs not only entrenched fields of study but every aspect of modern life, we've come to realise that things are deeply intertwined.
HOLO emerged in 2012 to explore these entanglements—first with a periodical, now across an expanded platform. Set up in the grey zones between art, science, and technology, it frames scientific research and emerging technologies as being more than sites of invention and innovation—as epicentres of critical creative practice, radical imagination, and activism. The artists and designers working with related materials—algorithms and microcontrollers, meteoroids and fungi, data and archives—aren't just updating notions of craft for the twenty-first century, they are researchers and cultural critics.
As an editorial and curatorial platform, HOLO occupies the same eccentric vantage points as these hybrid creative practices and puts them into perspective. Working across multiple avenues—print and online, events and production—HOLO collaborates with contributors and cultural partners to facilitate fruitful dialogue between domains and bring new voices into the conversation.


Selected collaborators:
© 2021 HOLO V2.5.1 (beta)
We produce:
Artist talks
Panel discussions
Performances
Installations
Workshops
Editorial
Publications
Over the last decade HOLO has curated more than 500 cultural initiatives worldwide
Selected partners: