Want to dig deeper into disciplinary interstices and entangled knowledge? Join an international community of artists, designers, cultural workers, and educators by becoming a HOLO Reader. You'll receive the annual print edition and get full access to everything we publish online for a year.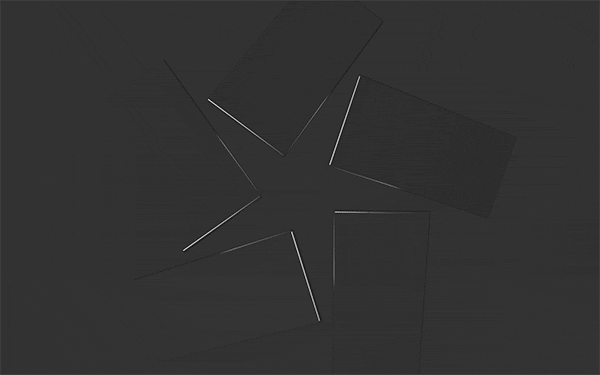 "In the real world, DAOs have hit two major problems. The first is that coding is hard, and the second is that most things you would actually want to do in the world today still don't exist on the blockchain."
"Radical Curiosity: In the Orbit of Buckminster Fuller" opens at Singapore's ArtScience Museum. A reconsideration of the American architect's legacy, it assesses his designs, which include the Dymaxion car and geodesic domes (image), in a moment of rising tides and strained infrastructure. Fuller's focus on interdependence and systems let him "foresee the world's problems and establish priorities," note curators Rosa Pera and José Luis de Vicente.
"You are meant to be a good little Homo economicus and behave in accordance with profit maximization."
"Transatlantic Visions," an exhibition showcasing Juliette Lusven's doctoral research on internet infrastructure, opens at Montréal's ELEKTRA gallery. Its single installation Sonder (le monde) (2022, image) presents a visualization of the undersea cables that span the Atlantic Ocean and real-time geographic data, fusing topographic and satellite views with "microscopic captures of technological residues, sediments, and microfossils from the ocean floor."
"I'm just terrified of the idea that people are giving us all these compliments because they don't want to miss out on this NFT thing, when in reality they're just looking at it from a business perspective."
Emerging trajectories in art, science, and technology (since 2012)
As an editorial and curatorial platform, HOLO explores disciplinary interstices and entangled knowledge as epicentres of critical creative practice, radical imagination, research, and activism
"I feel the language and concepts I'm working with don't comfortably fit within the normal discourse about art and aesthetics. CERN's physicists and engineers understood the tools I was using and I was able to talk about my goals. I just couldn't have that kind of dialogue in an art context."—sound artist Bill Fontana on his CERN residency (HOLO 2, p.206)
There is a space between a computer's command line interface and the contemporary art museum, the legalese of Silicon Valley's terms and conditions and the social contract, the whoosh of a particle accelerator and the romanticized "a ha" of artistic inspiration. For much of the twentieth century these gaps were chasms, separating science and engineering from the humanities and siloing them off; today, these gaps are narrowing and disciplinary interstices are the spaces to watch. Increasingly aware of how much technology governs not only entrenched fields of study but every aspect of modern life, we've come to realise that things are deeply intertwined.
HOLO emerged in 2012 to explore these entanglements—first with a periodical, now across an expanded platform. Set up in the grey zones between art, science, and technology, it frames scientific research and emerging technologies as being more than sites of invention and innovation—as epicentres of critical creative practice, radical imagination, and activism. The artists and designers working with related materials—algorithms and microcontrollers, meteoroids and fungi, data and archives—aren't just updating notions of craft for the twenty-first century, they are researchers and cultural critics.
As an editorial and curatorial platform, HOLO occupies the same eccentric vantage points as these hybrid creative practices and puts them into perspective. Working across multiple avenues—print and online, events and production—HOLO collaborates with contributors and cultural partners to facilitate fruitful dialogue between domains and bring new voices into the conversation.


Selected collaborators:
© 2022 HOLO V2.5.1 (beta)
We produce:
Artist talks
Panel discussions
Performances
Installations
Workshops
Editorial
Publications
Over the last decade HOLO has curated more than 500 cultural initiatives worldwide
Selected partners: