Welcome to HOLO 2.5, the new digital arm of HOLO magazine! We don't think it's odd to be celebrating an in-between issue as HOLO is all about interstices: first between disciplines, now between mediums. Please take a look around; for more details on our new online home read the welcome note, linked below.
"He knew as little as I did about how to make the computer draw. But he trusted me, his student. Throughout my academic career, I tried to follow Prof. Knödel's example—trusting students rather than mistrusting them. Isn't this what teaching is all about?"
OUT NOW:
The New Normal
Emerging from a 3-year
research program
initiated by Moscow's Strelka Institute, editors Benjamin H. Bratton, Nicolay Boyadjiev, Nick Axel, and a host of collaborators consider the impact of planetary-scale computation on urban futures.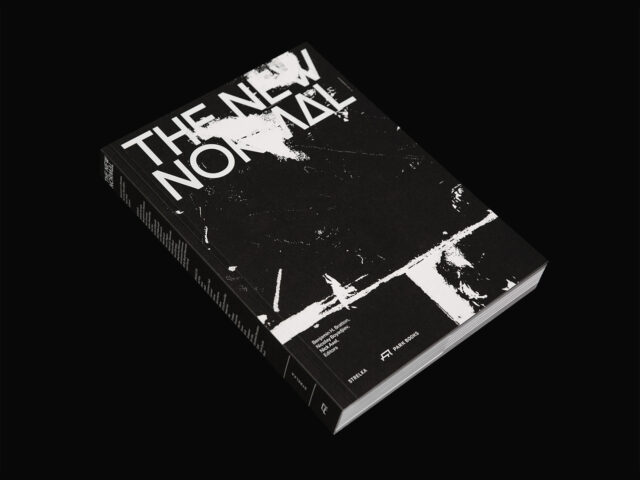 Algorithmic production has the potential to "free overworked and underpaid artists to pursue the aspects of their art that are most enjoyable, creative, or personally fulfilling." Beyond the expected skepticism, Matthew Braga considers the nuances of automation, and draws on recent projects by writer Robin Sloan and musician Holly Herndon to illustrate how it might aid and augment beleaguered and spread-too-thin creatives.
"Like all technologies, light reflects larger expressions of power, carving up an architecture of visibility that shapes how lives are led at night, providing shelter for some and harmful exposure for others."
Emerging trajectories in art, science, and technology (since 2012)
As an editorial and curatorial platform, HOLO explores disciplinary interstices and entangled knowledge as epicentres of critical creative practice, radical imagination, research, and activism
"I feel the language and concepts I'm working with don't comfortably fit within the normal discourse about art and aesthetics. CERN's physicists and engineers understood the tools I was using and I was able to talk about my goals. I just couldn't have that kind of dialogue in an art context."—sound artist Bill Fontana on his CERN residency (HOLO 2, p.206)
There is a space between a computer's command line interface and the contemporary art museum, the legalese of Silicon Valley's terms and conditions and the social contract, the whoosh of a particle accelerator and the romanticized "a ha" of artistic inspiration. For much of the twentieth century these gaps were chasms, separating science and engineering from the humanities and siloing them off; today, these gaps are narrowing and disciplinary interstices are the spaces to watch. Increasingly aware of how much technology governs not only entrenched fields of study but every aspect of modern life, we've come to realise that things are deeply intertwined.
HOLO emerged in 2012 to explore these entanglements—first with a periodical, now across an expanded platform. Set up in the grey zones between art, science, and technology, it frames scientific research and emerging technologies as being more than sites of invention and innovation—as epicentres of critical creative practice, radical imagination, and activism. The artists and designers working with related materials—algorithms and microcontrollers, meteoroids and fungi, data and archives—aren't just updating notions of craft for the twenty-first century, they are researchers and cultural critics.
As an editorial and curatorial platform, HOLO occupies the same eccentric vantage points as these hybrid creative practices and puts them into perspective. Working across multiple avenues—print and online, events and production—HOLO collaborates with contributors and cultural partners to facilitate fruitful dialogue between domains and bring new voices into the conversation.


Selected collaborators:
© 2020 HOLO V2.5 (beta)
We produce:
Artist talks
Panel discussions
Performances
Installations
Workshops
Editorial
Publications
Over the last decade HOLO has curated more than 500 cultural initiatives worldwide
Selected partners: