"This is the story of the eccentric but charismatic commune leader John P Allen [and] the rebellious young billionaire Ed Bass, who offered to put some of his family oil money at Allen's disposal to realise one of his most cherished visions: building a gigantic biodome-style enclosed ecosystem."
Want to dig deeper into disciplinary interstices and entangled knowledge? Join an international community of artists, designers, cultural workers, and educators by becoming a HOLO Reader. You'll receive the annual print edition and get full access to everything we publish online for a year.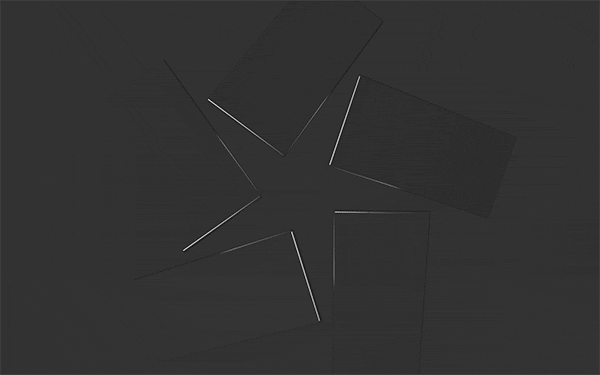 "It's not that the music they make will sound 'more Western,' but it is forced into an unnatural rigidity. The music stops being in tune with itself. A lot of the culture will be gone."
DOSSIER:
"We hit a wall: how can we pick a single theme with so many simultaneous urgencies? What's the longevity of a timely research topic in light of mutating global crises and rapidly evolving tech?"
Co-curated by Sean Sandusky and Dana Snow for Toronto's InterAccess, "QUEERSPHERE" is an online exhibition inspired by Queer and Trans social media communities in the 2000s. A site where "imaginations, social groups, and worldbuilding are allowed to flourish outside of the pressures of corporatization and flat representation," the show nostalgically evokes pre-NSFW content ban Tumblr and other platforms. Featured artists include Keiko Hart, Maxwell Lander, and Lucas LaRochelle (image: LaRochelle's QT.Bot).
ENCOUNTER:
"So many people are afraid of science in the art world because it is more creative and innovative. There are far more new ideas in New Scientist than in frieze."
"We have been told there would still be access to Double Negative, but the power of the place would be lost forever."
The link between new media art and knowledge work was writ large in Xerox Art. Kate Eichhorn's 2016 book Adjusted Margin parsed the role the photocopier played in the 1970-90s NYC Art scene in meticulous detail. An excerpt published in the MIT Press Reader introduces the convergence of technological, economic, and aesthetic forces that shaped this under-documented niche genre (image: a page from David Wojnarowicz's 1988 zine In the Shadow of Forward Motion).
"Provocative art can help push a useful dialogue about the role of technology in our daily lives. This art, however, fundamentally misrepresents Spot® and how it is being used to benefit our daily lives."
After a 203-day journey traversing 472 million kilometers, NASA confirms the touchdown of its largest, most advanced rover on Mars. With a primary objective of astrobiology research, Perseverance will search for signs of ancient microbial life and collect Mars samples (to be returned to Earth in subsequent missions). Perseverance's first image, sent shortly after touchdown, shows the view from one of its hazard cameras. "Hello, world. My first look at my forever home," stated the rover's (chatty) Twitter account.
"Message for Mr.doob 10 years ago: Yes, making a 3D engine using canvas2d is stupid. But in 10 years, you'll watch a simulation in realtime of NASA landing a rover on Mars that uses that stupid code."
A purveyor of handcrafted digital aesthetics from yesteryear, emerging German artist Arno Beck releases a new series of 6-layer woodblock prints. Mirage (image) and Bird on a Wire were printed by Marginal Editions, New York, and are available from the artist.
What is the exchange rate between Ethereum and vintage memes? In 2011, Christopher Torres uploaded a video entitled Nyan Cat to YouTube and it became a viral sensation. In 2021 that pop tart rainbow-trailing space cat is a blast from the past—internet lore concentrate. An auction for a single edition "remastered" version of the 12-frame GIF is now live on the Foundation NFT (non-fungible token) marketplace. Bidding just opened, we're about to see how much nostalgia is worth. Update: Nyan Cat sold for 300 ETH ($575,000 USD)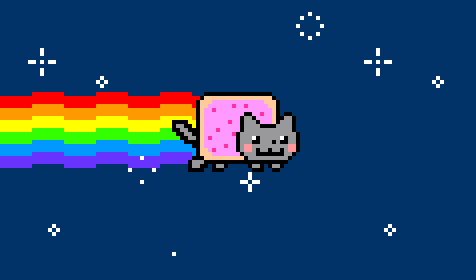 "It turns out my release of six CryptoArt works consumed in 10 seconds more electricity than the entire studio over the past two years."